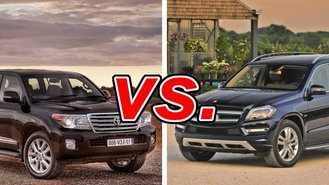 In most segments, buyers wouldn't cross-shop premium and mainstream brands. But if you've looked at the Mercedes-Benz GL450, there's a good chance you've also investigated the -- ironically more expensive -- Toyota Land Cruiser. Both come with space, utility and high-end amenities, but which is the better choice for your family?
See a side-by-side comparison of the Land Cruiser & GL450 >>
The Mercedes-Benz GL450
The GL450 has a crossover design that gives it easier maneuverability and a car-like ride; it doesn't, however, have serious off-road capabilities. It's for getting to the ski slopes at Lake Tahoe, not crawling the boulders along the Rubicon Trail.
Under the hood is a 4.6-liter twin-turbocharged V8 that generates 362 horsepower and 406 pound-feet of torque. Safety features include adaptive brake assist and adaptive high-beam technology.
The Toyota Land Cruiser
What was once a bare-bones Jeep clone has become a luxurious SUV with lots of features and a base price that's nearly $15,000 more expensive than the GL450's. A 5.7-liter V8 with 381 horsepower and 401 pound-feet of torque powers the Land Cruiser. And, like a good off-roader, it makes 90% of that torque available at a low 2200 rpms.
It's a traditional SUV built on a truck-like platform and comes with exceptional off-road capabilities -- the Land Cruiser even employs KDSS (Kinetic Dynamic Suspension System), an innovative system that disengages the stabilizer bar during for greater articulation in off-road maneuvers. This all comes at the expense, though, of on-road performance.
The Better Full-Size Luxury SUV
For some buyers, the Land Cruiser will be the obvious choice -- it can do everything a traditional SUV is supposed to do with the promise of Toyota's reputation for reliability. But the GL450 better responds to the everyday needs of most SUV buyers.
Our Verdict: Mercedes-Benz GL450
The GL450 is the modern interpretation of the full-size SUV.
Take a closer look at the Toyota Land Cruiser >>