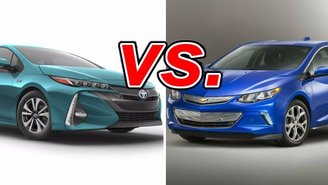 As automakers continue to perfect and reduce the cost of full-electric vehicles, plug-in hybrids have evolved as a successful stopgap solution. The Volt has been a staple in this segment since 2011, and the Prius Prime, the replacement for the Prius Plug-In, just arrived in 2017.
Toyota has the traditional-hybrid market on lock, but can this newcomer to the plug-in realm overtake the Volt?
See a side-by-side comparison of the Prius Prime & Volt »
What the Prius Prime Gets Right
With a significantly lower starting price than the Volt, the Prius Prime gives buyers with a lower budget the opportunity to pick up a plug-in hybrid.
While its power is way down relative to the Volt, its much more efficient. The EPA rates the Prius at 133 miles per gallon equivalent overall (27 mpge over Volt) and 54 mpg combined in hybrid mode (over 12 mpg better than the Volt). This combines with its 11.4-gallon fuel tank to deliver a cruising range of up to 640 miles, which is 220 miles greater than the Volt.
On top of being more efficient, the Prius Prime takes just 5.5 hours to recharge on a standard 120-volt household plug and just 2.2 hours on a 240-volt charger. These are 7.5 and 2.3 hours quicker than the Volt, respectively.
The Prius Prime is far more capable of handling weekend getaways too, thanks to its 19.8 cubic feet of cargo room – the Volt can handle just 10.6 cubes in its trunk.
What the Volt Gets Right
While its styling is a little too Cruze-like for some, this look is at least less polarizing than the love-it-or-hate-it Prius Prime. Also, the Volt's slightly smaller footprint can make zipping around town and into tight parking spaces a little easier.
Despite its smaller footprint, the Volt's interior is a little roomier, as it has seating for five – albeit the middle seat in the back is not comfortable – to the Prius Prime's room for four, and it has 34.7 inches of rear-seat leg room, or 1.4 inches more than the Prius Prime.
Though it gives up a lot in overall efficiency, the Volt's powertrain is livelier than the Prius Prime's at 149 horsepower and 294 pound-feet of torque. It also has up to 53 miles of electric range, which more than doubles the Toyota, and allows owners with even above-average commutes to run fuel free. Stories of Volt owners going a month or more on a single tank of fuel are not uncommon.
Additionally, the Volt comes very well equipped, even in its base trim. The standard equipment includes keyless ignition, auto climate control, OnStar 4G LTE, built-in Wi-Fi, Siri Eyes Free, Apple CarPlay, a leather-wrapped steering wheel, LED headlights, and a six-speaker sound system.
Who's the Prius Prime Best For?
As a plug-in hybrid, the Prius Prime falls far behind the Volt in this segment's most important feature: electric-only range. But it does excel in certain areas that some buyers are looking for. Its 19.8-cubic-foot trunk is great for families that tend to haul a lot of cargo, be it soccer balls or luggage for weekend getaways. Its higher fuel efficiency also makes it suitable for longer commutes or road trips.
Verdict: Chevrolet Volt
The Volt's narrow victory is twofold. First, its 53-mile electric-only range leaves plenty of room for the average commute and a little more for tinkering around town after work. Second, the Volt's more traditional design is far less polarizing than the Prius Prime's, making it palatable to more buyers.
Take a closer look at the Toyota Prius Prime »