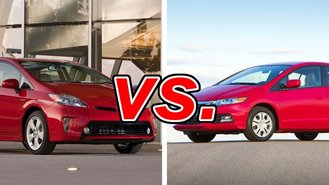 The original Honda Insight might have beaten Toyota's Prius to the U.S. market, but those first-generation hybrids had little in common: The Insight was a lightweight two-door hatchback, while the Prius was a four-door sedan notable for its somewhat stodgy styling. Fast-forward almost 15 years and both are four-door hatchbacks with similar specifications. So why does the Prius continue to get all the attention?
See a side-by-side comparison of the Prius & Insight >>
What the Honda Insight Gets Right
The Insight offers six separate trim levels with an affordable pricing structure. All use the same 1.3-liter four-cylinder hybrid engine -- and all generate a respectable 41 mpg city and 44 mpg highway. On the road, the Insight feels more like a conventionally-powered vehicle than a hybrid. Interior space is sufficient, and the control layouts are easy to navigate. We especially like color displays that help the driver manage efficiency.
What the Toyota Prius Gets Right
The Prius hatchback is available in five separate trim levels -- and it boasts a wagon variant. Fuel efficiency with the 1.8-liter four-cylinder hybrid engine is terrific: 51 mpg city and 48 mpg highway. Safety ratings on the Prius are good. The interior's design and materials could use more panache -- a common hybrid complaint -- but at least the Prius is more versatile than some models. With the seats down there's plenty of cargo capacity, and options are plentiful at higher level trims.
Why Doesn't the Insight Get as Much Attention as the Prius?
The Prius zeroed in on its sleek four-door hatchback design years before the Insight, and established itself as the hybrid standard. The Insight might have some advantages in driving dynamics, but it can't really match the all-around around package offered by the Prius.
Our Verdict: Toyota Prius
The Prius's handling can only be described as adequate, but it offers better gas mileage, a slightly more refined interior, and the versatility of superior cargo capacity.
Take a closer look at the Toyota Prius >>