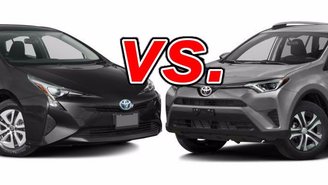 The Toyota RAV4 and the Prius, though in completely different classes, can sometimes find themselves head-to-head. This is mostly because their starting prices are nearly identical and the Prius has the allure of impressive fuel economy and comparable interior space.
So which one is truly the better pick? We looked at both models to find out what each does well and which is the best overall value for most shoppers.
See a side-by-side comparison of the Prius & RAV4 »
What the Prius Gets Right
As a smaller car, the Prius is simpler to navigate through tighter spaces, making it ideal for city driving or in heavier traffic. Additionally, as a liftback model, its cargo area is just as simple to load and unload as the RAV4.
In its standard setup, the Prius comes with tons of features, including 15-inch alloy wheels, LED headlights and taillights, keyless entry, auto climate control, Bluetooth connectivity and audio streaming, a 6.1-inch touchscreen and more.
Powering the Prius is a hybrid powertrain that includes an electric motor and a 1.8-liter four-cylinder engine. Combined, these drive units deliver stunning fuel economy of 54 mpg city and 50 mpg highway, which the RAV4 can't come close to.
What the RAV4 Gets Right
The RAV4 may not give you the same features for the money that the Prius does, but it offers tons more rear seat legroom and cargo space.
Beneath the hood is a 2.5-liter four-cylinder engine that produces 176 horsepower. That's not much for its class, but it does trump the Prius. The RAV4 is also better for those in snowy climates, as it has optional all-wheel drive.
The RAV4 Has Its Place
The RAV4 has plenty to offer those in need of all-wheel drive and the extra room in the cabin. For larger families who do a lot of hauling cargo, the RAV4 is the better choice.
Verdict: Toyota Prius
The obvious reason for the Prius winning is its extraordinary fuel economy, but it has more than that to offer. Its standard features combined with a respectable amount of cargo room and decent interior all add up to a winner compared to the RAV4.
Take a closer look at the Toyota Prius »