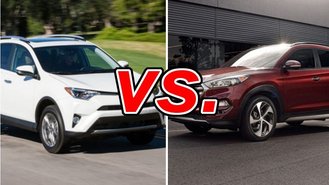 Featuring maneuverable size, amiable road manners and a good mix of versatility, the Toyota RAV4 helped to usher in a new genre of vehicle -- the compact crossover SUV.
See a side-by-side comparison of the RAV4 & Tucson »
Since its introduction in the 1990s, a long list of competitors has joined the fight for a segment of buyers in need of something more than car. One of these is the Hyundai Tucson, which first appeared in 2005. So how does the RAV4 stand up against this newer competitor?
What We Like About the RAV4
For 2016, the RAV4 gains a new hybrid powertrain that combines a 2.5-liter four-cylinder with an electric motor to produce 194 horsepower and deliver 34 mpg city, 31 mpg highway, and 33 mpg combined. In its base format, the RAV4 comes solely with a 2.5-liter four-cylinder that's good for 176 horsepower and up to 31 mpg highway. Like most small SUVs, the lightly refreshed RAV4 handles like a car, enabling it to navigate tight streets and parking lots with ease.
The restyled body is attractive, and contains a versatile interior and massive cargo bay. One notable change from past models is the roof-hinged rear gate, replacing an unpopular gate that opened from the side.
What We Like About the Tucson
The Tucson offers four separate trim levels -- most used as a convenient way to package option groups at pleasing price points. The Tucson has a sporty feels, and everything from the sleek exterior to the sport-tuned suspension, optional turbocharged engine, and dual-clutch transmission promote this. All-wheel drive is available. On the road, the Tucson is nimble and offers a comfortable and smooth drive.
The interior also offers versatility, with a well-designed cabin that's easy to interact with.
Does the RAV4 Hold Up Against the New Competition?
The RAV4 offers a better engine, better options and more versatility than the Tucson. Recent improvements in interior and exterior design have helped it keep up with the newer models. And cargo space isn't even a contest -- with the seats down the RAV4 offers around 10 cubic feet more than the Tucson.
The Tucson, however, is generally cheaper and sportier.
Our Verdict: Toyota RAV4
While the Tucson makes an admirable effort, its emphasis on an agile and sporty driving experience doesn't hold up to the versatility and extra cargo space offered by the RAV4.
Take a closer look at the Toyota RAV4 »