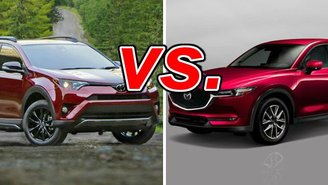 The Toyota RAV4 still reigns as America's top-selling compact crossover, even though it hasn't changed in a major way since 2013. When it comes to what really matters in a family vehicle, the RAV4 always seems to deliver. With its svelte body and spunky performance, the Mazda CX-5 comes off as a sporty passenger car that happens to have room for the family. Drivers who need versatility but still want some fun will find them both in the CX-5.
How does the sales champ stack up against the athlete of its class? Let's find out.
See a side-by-side comparison of the RAV4 & CX-5 »
What the RAV4 Gets Right
The current Toyota RAV4 has always carried a nice load of standard equipment. This year, Toyota adds adaptive cruise control, lane keeping assist, and automatic high beams to the list. This level of technology is optional on competitors, or may not be available at all.
Buyers also get a smooth, quiet ride and plenty of room for five passengers. The rear seat folds virtually flat, allowing the RAV4 to carry 73.4 cubic feet of cargo. This isn't tops in this field, but it's pretty close.
Every model comes with a 2.5-liter four-cylinder engine that generates 176 horsepower and 172 pound-feet of torque. A six-speed automatic transmission is also standard. The RAV4 earns an EPA-estimated 23 miles per gallon city, 30 mpg highway, and 26 combined, or 22/28/25 mpg (city/highway/combined) with all-wheel drive.
What the CX-5 Gets Right
The Mazda CX-5 has earned a reputation for delivering some of the best handling in this class. A quick turn behind the wheel confirms what everyone is saying. The steering is precise, nicely weighted, and keeps the driver in touch with the road. The ride is as firm as it can be without interfering with passenger comfort.
Like the RAV4, the CX-5 comes with one engine: a 2.5-liter four-cylinder with 187 hp and 186 lb-ft of torque. It plays well with the six-speed automatic transmission, delivering scrappy acceleration along with an EPA-rated 25/31/28 mpg (24/30/26 with all-wheel drive).
We like to think of the CX-5 as a comfortable four-seater. There's technically room for five, but at least one in the back will feel squished. With the seat in use, cargo space is quite good at 31 cubic feet. Volume increases to 59.6 cubic feet with it folded, which is adequate for small families.
Does the RAV4 Deserve to Be So Popular?
Vehicles as practical as the RAV4 usually come with some compromises, like boxy styling or middle-brow technology. We found no such trade-offs here. The RAV4 is remarkably well-rounded and free of weak spots.
The CX-5 doesn't hold such universal appeal, but it certainly could if Mazda found a way to enlarge the interior without diluting its sportiness. For now, the CX-5 relies too much on performance to take the sales crown.
Our Verdict: Toyota RAV4
The Toyota RAV4 fulfills the textbook definition of a family vehicle.
Take a closer look at the Toyota RAV4 »