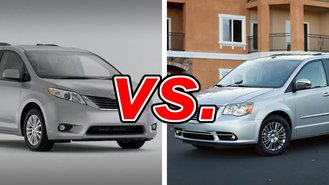 The Chrysler Town & Country is one of the most popular minivans on the market, and has been since it was first introduced in 1990. The Toyota Sienna came along eight years later and has been a strong -- and dependable -- choice ever since.
See a side-by-side comparison of the Sienna & Town & Country >>
As the leader in minivan innovation, the Town & Country has been rewarded with strong sales over the years. But are we underestimating the Sienna?
What the Town and Country Gets Right
The Town & Country is powered by a 3.6-liter V6 that does a respectable job for its class. In fact, the Chrysler has enough power to pass non-minivans on the freeway.
Its interior is smart and features high-quality materials and an attractive design. Second- and third-row seats can be flipped or stowed in various configurations. When folded flat, a Town & Country has 143.8 cubic feet of cargo space. Entertainment features are plentiful and include a rear DVD entertainment package, Bluetooth, a touch screen and satellite radio as standard equipment.
What the Toyota Sienna Gets Right
The Sienna has an attractive base price and plenty of trim options. Power from the 3.5-liter V6 won't embarrass a Sienna's driver, and the minivan returns good fuel economy of 18 mpg city and 25 mpg highway. Available all-wheel drive is an option you won't find on any competitors.
A Sienna can be configured for seven or eight passengers. Headroom is generous, and captains chairs in seven-passenger models slide for even more legroom. Some second-row seats also recline.
Interior materials and standard features are good on the base models -- they only get better as a Sienna's price increases.
Are We Underestimating the Sienna?
The Sienna gets better gas mileage, is slightly cheaper, and offers an excellent choice of trim levels. The engines and the safety features on both models are fairly equal, but the Town & Country has a bit more power.
We love the Sienna's Entune system, smartphone services and search engine capabilities, though the Town & Country holds its own on the technology front. The versatility of the interior of the Town & Country is hard to beat, but with several configurations the Sienna is closer than you might expect.
Our Verdict: Toyota Sienna
While we enjoy the versatility of the Town & Country, we think the seating configurations, all-wheel drive and technology options on the Sienna make it the better choice.
Take a closer look at the Toyota Sienna >>