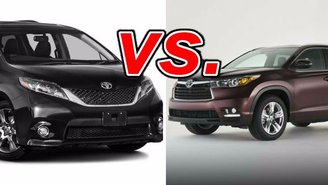 Long ago, the crossover SUV pushed the minivan aside as the vehicle of choice for medium-size families. Then came the three-row crossover that in some ways made minivans obsolete. That said, there are still some automakers building both three-row crossovers and minivans.
Toyota is one of said manufacturers, as it has the eight-passenger Highlander crossover and the Sienna minivan. While they have a lot of overlap, one must come out as the better buy.
See a side-by-side comparison of the Highlander & Sienna »
What the Sienna Gets Right
The Sienna starts out with a slight pricing advantage, plus its sharp body doesn't really carry the minivan feel. It also has the option of going with seven or eight seats, giving buyers a little flexibility. Additionally, the large sliding door makes for easier ingress for third-row passengers.
If cargo hauling is a frequent event, the Sienna's removable seats open up a 150 cubic-foot area for all sorts of stuff. Even with its seats in place, the Sienna can still haul up to 39.1 cubic feet of gear.
In the standard-horsepower war, the Sienna comes out on top with its base 3.5-liter V6 that cranks out 296 horsepower and 263 pound-feet of torque. What's more, its up to 27 mpg highway actually beats out the four-cylinder Highlander.
Surprisingly, towing in the Sienna is more than double the max capacity of the base Highlander.
What the Highlander Gets Right
The Highlander simply feels more upscale from the start, with its plush interior, impressive sound deadening, and more refined ride. It also lacks the stigma attached to a minivan and still has an impressive 83.7 cubes of max cargo room.
With its standard eight-passenger setup, it can also haul more people than the standard Sienna.
While its gasoline-only models lack in both power and fuel economy relative to the minivan, the Highlander has a trick up its sleeve: the Highlander Hybrid. This model produces a respectable 280 horsepower and still gets up to 27 mpg city and 28 mpg highway.
The Minivan Still Has its Place
For families that need its cavernous interior, the Sienna offers a worthy solution. Without that need, the vehicle's 200.2-inch-long body makes driving in tight areas a little tricky. That said, if your family needs that much room, then just walk right past the Highlander – it has nothing to offer you.
Verdict: Toyota Highlander
While the Sienna is about as cool as a minivan gets these days and is plenty versatile, the Highlander is the better choice for most buyers. It has all the room you need for your growing family, plenty of powertrain options, and optional all-wheel drive for regions with harsh winter climates.
Take a closer look at the Toyota Highlander >>