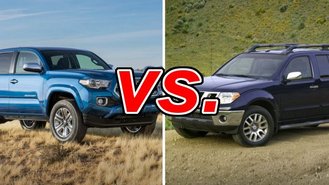 Shoppers who want a modern midsize pickup truck from an American automaker have their pick from GMC and Chevy. However, there are currently two capable midsize trucks offered by Japanese companies.
Both the Nissan Frontier and Toyota Tacoma arrived on U.S. shores in the late 1990s to compete with popular domestics like the Ford Ranger and Dodge Dakota. But while Dodge and Ford have since ended their own midsize truck production, the Frontier and Tacoma have yet to call it quits.
Do midsize trucks serve enough purpose over full-size pickups to justify their continued existence and recent expansion in the U.S.? And if so, which of the two imports is better?
See a side-by-side comparison of the Tacoma & Frontier »
What the Toyota Tacoma Gets Right
It's hard to argue against the functionality of a pickup bed, but there are those who don't need the space of a full-size truck. Most appealing about the redesigned Tacoma is its more aggressive body that still pays homage to its roots. Plus, the Tacoma has numerous body styles including regular, extended and crew cabs, providing seating for up to five passengers.
A four-cylinder engine with 159 horsepower and 180 pound-feet of torque is standard, though a 3.5-liter V6 with 278 horsepower is available. For truck shoppers who intend to haul or tow frequently, we highly recommend the V6. Buyers also get a small advantage in towing capacity and max payload with the Tacoma.
The Tacoma also has a TRD Pro trim level that pushes the off-road capability of the Tacoma to a new level. There are few trucks in this class that can compete with it off the beaten path.
What the Nissan Frontier Gets Right
As with the Tacoma, the Frontier's size simply makes sense for some buyers. Other positives include the array of available trim levels like the Desert Runner package, which gives a four-wheel drive look to two-wheel drive Frontiers. Extended and crew cab body styles are offered—though upper trim levels are available only on the latter.
While it may not have the capabilities of the Tacoma TRD PRO, theFrontier PRO-4X is plenty capable off road, while its higher trims, like the SL, offer plenty of high-end features.
So Do Midsize Trucks Still Have a Place on America's Roads?
In one word: Yes. Most full-size trucks measure over 230 inches in overall length, making them difficult to drive and park. Midsize pickups, meanwhile, are agile vehicles that can fit into those skinny parking spots at the grocery store. For shoppers who frequently need the utility of a truck without its size, the midsize pickup is perfect.
Our Verdict: Toyota Tacoma
At one point, the Frontier was the easy option between these two midsize pickups, but the Tacoma's new look and new V6 engine have pushed the Tacoma over the aging Nissan.
Take a closer look at the Toyota Tacoma »