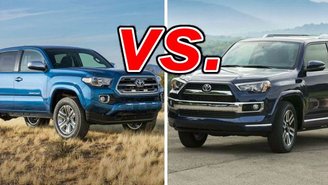 When shopping for a pickup truck, it may cross your mind to check out what an SUV may have to offer – or vice versa. The temptation can't get much worse than when you're comparing models as closely related as the Toyota Tacoma and 4Runner.
With related bones, these two are easy to pit against one another. But which one is the better buy: the roomier and better-equipped SUV or the more rugged and easier-to-afford pickup?
See a side-by-side comparison of the Tacoma & 4Runner »
What the Tacoma Gets Right
The Tacoma starts off the competition with a big advantage in price, thanks to its more utilitarian base trim level. It also has more engine options, which include a 2.7-liter four-cylinder engine that allows it to slightly beat the 4Runner in fuel economy. With the V6, which it shares with its SUV brother, the Tacoma's 6,400-pound towing capacity is a good bit better than the 4Runner.
While the standard access-cab Tacoma has a super-tight rear seat, the double-cab model has nearly the same rear-seat legroom as the 4Runner, plus you have the added benefit of the truck bed for hauling dirtier cargo.
What the 4Runner Gets Right
The 4Runner stands in a class of its own as one of the few smaller SUVs to actually be able to handle serious off-road trekking. On top of that, its features, even in the base setup, are plentiful and include 17-inch alloy wheels, mud guards, a tow hitch, hill-start assist, LED taillights, a power liftgate window, a leather-wrapped steering wheel and so much more.
Under its hood, the 4Runner comes standard with a 4-liter V6 good for 270 horsepower and 278 pound-feet of torque.
Inside, the extra rear-seat legroom when compared to the base Tacoma is better for families, and its 89.7 cubic feet of cargo room fits plenty and keeps things out of the elements better than a truck bed. Sure, it can't haul stone, but it can haul the kiddos' stuff with the best of them.
Is the Extra Cost of the 4Runner Worth it?
The 4Runner starts roughly $10,000 higher than the Tacoma, meaning there is a lot of room to load up the pickup. While the 4Runner is awesome, the Tacoma just does way too much to give in to its more timid brother.
Verdict: Toyota Tacoma
The Tacoma's huge price advantage and relatively roomy double-cab rear seat gives it the ability to inch past the 4Runner. What's more, buyers can throw all sorts of upgrades at it before ever coming close to the starting price of the 4Runner.
Take a closer look at the Toyota Tacoma >>