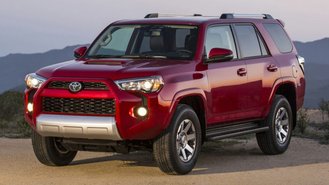 The Toyota Tacoma and 4Runner are two of the most rugged vehicles in the automaker's line-up. Their reputations for being able to take some bumps and bruises on the trail and make it back has earned them a loyal following and while neither design is very fresh - the 4Runner can be traced back to 2009 and the Tacoma last saw a redesign in 2016 - they have received continuous updates to keep them competitive - even against each other. Considering their shared level of off-road dedication, let's take a look at the two to see how the 4Runner holds up against the newer Tacoma in our comparison of prices, engines, MPG, and more.
Tacoma vs. 4Runner Price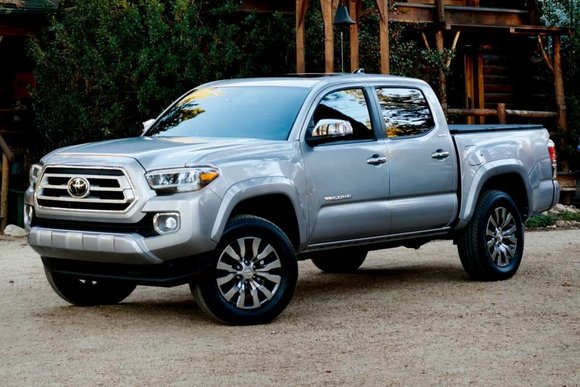 The Tacoma earns the award for lowest entry cost ($28,585) but it's not the one that you'll want as it is fitted with a four-cylinder engine. The 4Runner starts more than $10,000 higher ($39,640). Expect to pay around $3,000 more for the SUV when each is fitted with the TRD Off-Road package. A fully-loaded Tacoma can cross over the $50,000 mark while the 4Runner can reach a tick under $55k, however, these are not to be interpreted as luxurious vehicles.
The 2023 4Runner is on dealer lots but is without a good lease deal. Toyota's $500 to $1,000 Keep It Wild discount is available but there are no financing offers. The Tacoma is also without any good lease deals but it offers several low-interest financing options which are rare.
Tacoma vs. 4Runner Engines & MPG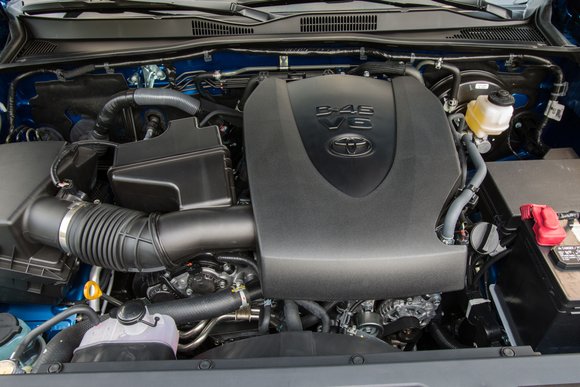 The 4Runner's 4.0-liter V6 is old and it lacks many of the technological updates seen in most modern engines, however, its 270 horsepower and 278 pound-feet of torque are still healthy figures and help the SUV get off the line with authority. While the low-end grunt will never go out of style, its automatic transmission features just five forward speeds which is almost unheard of in today's new car market. On the highway, the duo requires frequent downshifts to maintain highway speeds.
Toyota decided to bless the Tacoma with a more modern V6 engine that displaces 3.5 liters and features port and direct fuel injection to achieve power ratings (278 horsepower and 265 pound-feet of torque) and vastly improved fuel efficiency figures which are also helped by the six-speed automatic transmission. The Tacoma (still) offers a four-cylinder engine in the base trims but its 159 horsepower and 180 pound-feet of torque figures are underwhelming and it does no better in terms of efficiency per the EPA. A manual transmission is also something that you can only find in the Tacoma but it is limited to the V6 TRD Off-Road trim.
The Tacoma's updated powertrain helps it score an EPA-estimated 21 miles per gallon combined with rear-wheel drive and 20 mpg with four-wheel drive which are three to four MPG points better than what the 4Runner manages which equates to about $500 in annual fuel savings per the EPA. The six-speed manual and TRD Pro Tacomas earn 18 MPG.
Tacoma vs. 4Runner Off-Road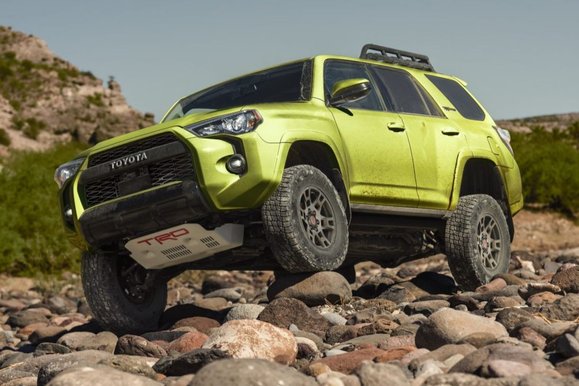 The Tacoma and 4Runner both start off with a rugged body-on-frame for off-road durability, a solid rear axle, and offer a part-time four-wheel drive system that is engaged via a lever in the 4Runner and a rotary knob in the Tacoma. The TRD Off-Road trims add a locking rear differential, low-speed crawl control, a terrain-specific traction control system, and off-road shocks while an off-road minded surround-view camera system is available for improved trail awareness which is much appreciated considering their tall hoods (with fake hood scoops).
Only the 4Runner, however, offers a dynamic roll-bar system (Toyota calls KDSS) for increased articulation and a flexy coil spring rear axle. Both the 4Runner and Tacoma offer pricey TRD Pro trims with upgraded suspension systems that can better handle sustained off-road bumps without overheating and additional underbody protection for when their nearly 10-inches of ground clearance isn't enough.
Consumers will be impressed by both models' approach, departure, and break-over angles (the 4Runner measures slightly better) while the Tacoma offers a dealer-installed lift kit that passed Toyota's stringent durability test requirements.
The 4Runner offers a more diverse four-wheel drive system that is permanently engaged and can be used on dry pavement - enabling a set-it-and-forget-it approach. That system features a locking center differential for enhanced off-road traction but isn't offered with the TRD Off-Road package.
Overlanders will appreciate the Tacoma's 1,150-pound payload and cargo flexibility provided by the five-foot bed while the 4Runner's flat-folding seats provide shelter for someone nearly six feet long and its powered tailgate window is clutch for secure overnight ventilation.
The 4Runner can tow up to 5,000 pounds of camping gear while the Tacoma is rated for about 6,400 pounds.
Toyota Tacoma vs. 4Runner: Which Is Better?
Both the Toyota 4Runner and Tacoma provide greater off-road capability than most other new vehicles. In terms of everyday practicality, however, the Tacoma's small "full-size" Double Cab doesn't provide enough legroom for comfortably carrying most adults whereas the 4Runner does.
Plus, the SUV offers over 46 cubic feet of secure space behind the second row and a slightly more refined ride although that is not saying much. If the extra initial and running costs aren't prohibitive, the 4Runner gets our nod for being the better all-around vehicle.