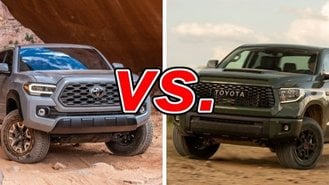 In the world of pickup trucks, titans like Ford and GMC tend to dominate the discussion (and sales) of American trucks. Toyota brings a different flavor with its midsize Tacoma and full-size Tundra. If you like standard safety tech, for instance, you're much better off with a Toyota truck.
But which of Toyota's offerings gives the best bang for your buck? We took a closer look to find out.
See a side-by-side comparison of the Toyota Tacoma & the Toyota Tundra »
What the Tacoma Gets Right
As the smaller of the two trucks, the Toyota Tacoma is the more affordable as well. In most trims, the Tacoma starts about $7,000 less than an equivalent Tundra.
That's especially valuable in the TRD trims, which turn the Tacoma into an off-road monster and look the part. Tacoma models tend to be reliable and hold value over time, which makes the investment easier in the first place.
The Tacoma received a full redesign in 2016, which makes it by far the newer vehicle. While the two trucks share elements like a 7- or 8-inch infotainment screen, the Tacoma's design feels like the fresher of the two.
The Tacoma can't have a V8, but its 3.5-liter V6 is capable enough for most and gets decent fuel economy. A four-wheel-drive V6 Tacoma achieves an EPA-estimated 20 miles per gallon combined, which is far better than the 15-mpg-combined Tundra.
What the Tundra Gets Right
As the full-size truck in the lineup, the Toyota Tundra brings size and space. The bed options are longer, the cabs more spacious, and even the extended cab comes with four front-hinged doors.
To match the size, the Tundra gets a more powerful engine. A 5.7-liter V8 is the only option, producing 381 horsepower against the Tacoma's maximum of 278 hp. It's not an efficient engine, but it's smooth and powerful enough to tow up to 10,200 pounds.
We haven't driven every Tacoma trim, but the Tundra has the softer ride by and large. With a composed suspension and larger cabin, it's the truck of choice for hauling passengers.
How Old Is Too Old?
The Tundra has the edge in power and space, but it's hampered by bones that are more than a decade old. Buyers who need to tow or carry large loads will still need a full-size truck, but for many consumers, the efficiency and value of the Tacoma will be bigger priorities.
Our Verdict: Toyota Tacoma
We anticipate an upgrade of the Toyota Tundra in the next year or two. Until then, the Toyota Tacoma reigns supreme in this comparison. It isn't the best for family road trips, but it remains a reliable midsize truck option.
Take a closer look at the Toyota Tacoma »