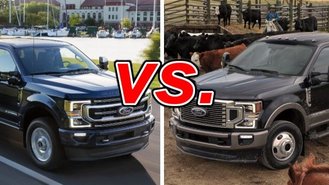 When a standard pickup won't cut it, heavy-duty trucks answer the call. Although the Ford F-250 and F-350 don't sell in the same numbers as the F-150, both put it to shame in terms of raw capability. But which is the better buy? If you're choosing between Ford Super Duty models, odds are you'll want to make an informed comparison of some of the key specs and features. Here's what you need to know.
See a side-by-side comparison of the Ford F-250 & the Ford F-350 »
What the F-250 Gets Right
In most cases, the F-250 will offer the same amenities for less. The two trucks share a similar trim structure and offer the same cab and bed configurations. In most trims, the F-250 costs about $1,500 less.
The F-250 offers the same engine options as well. The spectrum of potent V-8 powertrains includes two gas options along with a 6.7-liter turbodiesel. The latter costs about $10,000, but with more than 1,000 pound-feet of torque, it boosts the F-250's towing capacity up over 20,000 pounds. That's more than enough for most buyers.
Although both are heavy vehicles, the F-250 is the lighter of the pair. That gives it a slight edge in the ride and handling department. Neither truck excels here, but both are comfortable enough as cruisers. Mild updates for the upcoming 2022 F-Series Super Duty appear to focus largely on creature comforts like the addition of SYNC 4 and wireless smartphone connectivity.
What the F-350 Gets Right
The F-350 is all about capability. It dials the F-250's performance up a notch, boasting a maximum payload of 7,850 pounds. Towing capacity maxes out at a titanic 37,000 pounds — enough to require a CDL in most states.
Unlike the F-250, the F-350 offers a dually option for the rear axle. The extra wheels don't change the driving experience much, and the F-350 is surprisingly comfortable for its class.
How Much Grunt Do You Need?
The decision between these two trucks is relatively simple. If your towing needs rarely exceed 15,000 pounds, the F-250 is the way to go. It's still a formidable performer, and it offers the same features as the F-350 for less cash.
If you regularly tow RVs or trailers exceeding 20,000 pounds, the F-350 is a willing workhorse. Properly equipped, it tows as well as anything on the road.
Our Verdict: Ford F-250
The F-350 wins on brute force, but the F-250 is a better value. It's nearly as capable, and it's a better fit for most buyers. In either case, we think the XLT trim is the sweet spot in the lineup.
Take a closer look at the Ford F-250 »