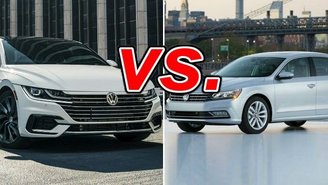 Once exclusive to luxury brands, coupe-styled four-doors are finding their way into the broader market. One such conveyance is the new Volkswagen Arteon, a swoopy mid-size car that's surprisingly practical. It offers plenty of room for five, just like VW's Passat family sedan, along with higher refinement inside and out. Is that enough to justify the Arteon's near-luxury price, or does the Passat do the same job for less?
See a side-by-side comparison of the Arteon & Passat »
What the Arteon Gets Right
We were prepared to forgive the VW Arteon for trimming passenger room in return for its sleek design, but we didn't have to. The Arteon has the interior dimensions of a conventional family sedan, punctuated by a sporty, upscale aesthetic that no rental-car candidate can match.
The cleverly disguised rear hatch permits 27.2 cubic feet of cargo space behind the rear seat, and 55 cubes with it folded. This wagon-like capacity is exceptional for a sporty passenger sedan.
The 2.0-liter turbocharged four-cylinder engine produces a robust 268 horsepower and 258 pound-feet of torque, funneled through an eight-speed automatic transmission. All-wheel drive is optional on the base trim and standard everywhere else.
The front-wheel-drive model is EPA-rated at 22 miles per gallon city, 31 mpg highway, and 25 combined. With all-wheel drive, estimates ease to 20/27/23 mpg (city/highway/combined).
What the Passat Gets Right
The Volkswagen Passat makes the most of its mid-size footprint with a family-size interior and trunk. Three adults fit comfortably in the back on local trips. When it comes to ride quality, the Passat feels more substantial than it really is. Passengers are sure to appreciate the smooth, quiet rolling and indifference to road imperfections.
The Passat also gets VW's 2.0-liter turbo engine, although this version is detuned to 174 hp and 184 lb-ft of torque. The payoff is exceptional efficiency for this class: 25/36/29 mpg. Every Passat has front-wheel drive and a six-speed automatic transmission.
Defining the Difference
The VW Arteon adds healthy doses of performance and versatility to the four-door formula – without tipping into luxury price territory. It's a highly practical choice that doesn't look or behave like it. The VW Passat concentrates on core family sedan values: room, ride, and value. That leaves out excitement, but many buyers won't miss it.
Our Verdict: Volkswagen Arteon
The Volkswagen Arteon proves that buyers can step into a sensible car without compromising.
Take a closer look at the Volkswagen Arteon »