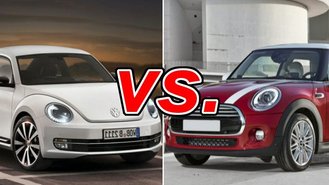 The new millennium marked a resurrection: reviving retro and classic cars became a way to excite customers who were losing interest with economy models.

The flair of retro design drew a loyal fan base for decades. Now, though, drivers can brag about reliability as well as European heritage. The Volkswagen Beetle and the MINI Hardtop are highly stylized, attractive retro compacts that do not break the budget. Which model brings the most style for the money?
See a side-by-side comparison of the Beetle & Hardtop »

The Super MINI Cooper

This iconic British car is actually not British. Since BMW took over production, the MINI became the embodiment of German engineering mated with British style. The standard 3-cylinder 1.5-liter engine offers up to 28 mpg city and 39 mpg highway. An optional turbocharged engine spooling up 189 horsepower in the S trim is great fun for most petrolheads. For those looking for maximum fun, there is the 228-horsepower John Cooper Works model.

All three trim levels of the car are a fun drive, with increased sportiness, stiffer suspensions, sharper steering and responsive shifting as you move up the ladder. Interior features such as standard keyless entry, ambient lighting, power accessories, Bluetooth, HD radio, USB/iPod adapters and auxiliary audio are available in even the base vehicle, making this MINI a lot of bang for the buck.

The Voracious VW

Tiny yet impressive, Volkswagen introduced the Beetle compact as a front-engine homage to the iconic rear-engined Bug, the car that inspired movies, songs and even the Porsche 911. A redesign in 2013 brought about expanded legroom, trunk size and interior comforts, it is clear the new Beetle was made with space in mind.

The base 1.8-liter offers 25 mpg city and 33 mpg highway, while delivering 170 horsepower. The range-topping engine is a 2-liter turbocharged four-cylinder with 210 horsepower at its disposal. The new-for-2016 Dune trim adds some extra aggressiveness to the Beetle that it laced in previous years.
Are They Equals?

These two German compacts make for a very close race. Both base models come well-equipped. Add the sleek retro designs and sharp handling, and a stylish consumer cannot go wrong with either vehicle.

Our Verdict: MINI Hardtop

With its exceptional options and smaller yet comfortable dimensions, the MINI is the ideal fun economy car, built for the driver. Take into account MINI's 4 year/50,000 mile warranty and the Beetle falls short of the finish line.
Take a closer look at the Volkswagen Beetle »