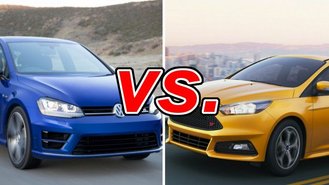 The Volkswagen Golf R and Ford Focus ST are, essentially, turbocharged rally cars you can drive to work. Volkswagen's Golf GTI started the hot hatch segment back in 1976, and the latest Type R is the latest smoking iteration of the storied rule-changer. Ford's Focus ST is a relatively new comer, arriving on the US scene in 2012 -- although Europeans have been enjoying the ST since the mid 2000s.
See a side-by-side comparison of the Golf R & Focus ST »
Sure R comes before ST in the alphabet, but does the top-tier grandfather of the segment have enough to hold off Ford's latest creation?
What we like about the Volkswagen Golf R
The Golf R sporting a turbocharged 2-liter four-cylinder engine that produces a whopping 292-horsepower. With its standard six-speed manual transmission it will speed to 60 mph in only 5.3 seconds; this time drops to a breathtaking 4.9 seconds with an optional six-speed dual-clutch automatic. With either gearbox the Type R will reach a top speed of 153 mph.
With all-wheel drive and a sport-tuned suspension, the Golf R is right at home on the race track but offers real-world comfort and utility. Handling and braking are brilliant making the Golf R one the most enjoyable semi-affordable driver's cars on the road today. Gas mileage is excellent, especially considering the R's blistering performance, at 22 mpg city and 31 mpg highway.
What we like about the Ford Focus ST
Powered by a saucy turbocharged 2-liter four-cylinder engine that produces 252 horsepower and 270 pound-feet of torque, the front-wheel drive Focus ST employs a six-speed manual transmission to propel the car from 0 to 60 mph in 6.3 seconds. Top speed runs out at 150 mph. The ST is as comfortable on the track as it is sitting in line at your kid's school carpool drop-off area, and it achieves almost unbelievable fuel economy considering the power and nature of the car: 23 mpg city and 32 mpg highway.
Our Verdict: Volkswagen Golf R
This is a tough one and frankly it could easily go either way depending on your definition of "winner." The Focus has a slight edge in fuel economy and a much lower base price, but once you load it up with features more in line with the R, the price gap closes a bit. What you can't option up to, though, is all-wheel drive or the Golf R's almost one-and-a-half second advantage from zero to sixty. That said, either one can make a gloomy day brighter, and are great alternatives to the same old sports cars on the market.
Take a closer look at the Volkswagen Golf R»