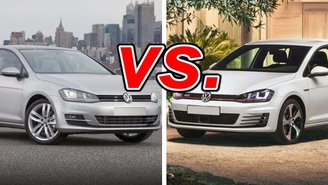 When shopping in the hatchback segment, one almost must-shop brand is German automaker Volkswagen. With its Golf and GTI models, the company has two great hatches to choose from. Both feature signature VW styling and peppy engines, but which is the better value?
See a side-by-side comparison of the Golf & GTI »
What the Golf Gets Right
Being the model the GTI is based upon, the Golf has the same sporty appearance as its more performance-oriented brother. But with it lacking the performance bits, the Golf starts out at a significantly lower price.
Despite this low price, the Golf has plenty of great standard features, such as 15-inch alloy wheels, heated mirrors, a rearview camera, a cooled glovebox, a 6.5-inch touchscreen and much more.
While the Golf's 1.8-liter engine isn't quite as potent as the GTI's powerplant, it is still plenty peppy for this class at 170 horsepower. The Golf does, however, deliver slightly better fuel economy than the GTI.
What the GTI Gets Right
While pricier than the base Golf, the GTI makes up or this added heft in price with its standard 18-inch wheels, LED fog lights, rear spoiler, leather-wrapped steering wheel, ambient interior lighting, an eight-speaker sound system and more. Additionally, the GTI has tons more options than the Golf, thanks to its four trim levels and two body styles: two- and four-door.
Powering the GTI is a 2-liter turbocharged four-cylinder engine with two states of tune. The base engine produces 210 horsepower, while the optional Performance Package increases the output to 220 horsepower.
The GTI is a Great Niche Hatchback
While my inner gearhead wants to hand the victory to the GTI, it's clear that the Golf is the better value. That said, the GTI has a key demographic in those looking for a hatchback that can haul the family and haul tail too. This is exactly where the GTI excels, but that's not the bulk of buyers.
Verdict: Volkswagen Golf
With its lower base price and loads of premium features, the Golf is the better value.
Take a closer look at the Volkswagen Golf >>