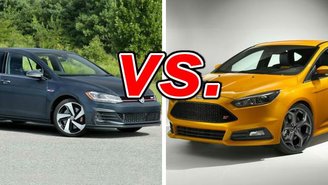 The standard bearer for the hot hatchback movement, the Volkswagen GTI continues to offer a balance of thrills and practicality that resonates with buyers. It's a car with a fan club, as decades of continuous sales have shown.
The Ford Focus ST doesn't enjoy that kind of pedigree, but packs all the requisite performance credentials and then some. The ST feels like a scrappy street racer from the moment it leaves the factory, no mods required. It's a serious contender, no doubt, but is it more impressive than the beloved GTI?
See a side-by-side comparison of the GTI & Focus ST »
What the GTI Gets Right
The GTI wears the same four-door hatchback body as the standard Golf, albeit with some sporty embellishments. The GTI delivers where it really counts with a sport-tuned suspension, performance-spec brakes, and a limited-slip differential.
To go with its superior handling, the GTI gets a turbocharged 2.0-liter four-cylinder engine that lays down 220 horsepower and 259 lb-ft of torque. Purists will appreciate the standard six-speed manual transmission, although the optional six-speed dual-clutch automatic produces somewhat better acceleration and efficiency.
With the automatic, the GTI can do the sprint from zero to 60 mph in 5.6 seconds, and is EPA-rated at 27 mpg in combined driving city and highway driving.
What the Focus ST Gets Right
Like the GTI, the Focus ST is a distinguished performer that happens to carry the shell of a mass-market compact. The ST dispenses with the regular Focus running gear in favor of a sport-tuned setup that makes it a totally different car dynamically.
For starters, the 2.0-liter turbo engine is good for 252 hp and 270-lb-ft of torque, impressive output even in this league. In addition to its firm suspension and grippy tires, the ST gets a torque-vectoring differential that distributes power between the front wheels — and an electronic stability control system that's not afraid to let the driver work up spins and drifts. That's not to say the ST is completely untame. It can behave like a perfect gentleman during the daily commute.
Available with a six-speed manual only, the ST scoots from zero to 60 mph in 6.3 seconds and delivers 25 mpg in combined driving.
What's the Difference?
The GTI comes off as refined and grounded, despite all the fun it can instigate. The fine dual-clutch automatic enforces this appeal, while providing objectively better performance.
The Focus ST take a more delinquent approach. It's exciting and comfortably fierce, but in the end, not for everyone.
Our Verdict: Volkswagen GTI
The GTI is a well-rounded athlete that carefully avoids errors.
Take a closer look at the Volkswagen GTI »