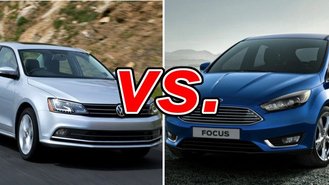 Given the Volkswagen Jetta's roomy interior and grown-up looks, you might be surprised to discover it's the lowest-priced model in the VW lineup. With a strong value pitch and emphasis on fuel economy, today's Jetta is positioned firmly in the econo-sedan field.
See a side-by-side comparison of the Jetta & Focus >>
Throughout much of its life, the Ford Focus was regarded more as a competent Escort replacement than the game-changing compact the brand needed. The game did finally change in 2012 when the current Focus debuted with more power, technology and refinement.
Both Jetta and Focus make a compelling case to consumers, but which shines brighter?
Jetta Virtues
The Jetta optimizes the notion of a lot of car for the money. Interior and trunk space come close to midsize levels, and features like heated outside mirrors and express up/down windows are included in the modest base price. The Jetta offers clean and sensible styling inside and out, which makes it unique in a field that thrives on trends and cuteness.
The standard 2-liter engine makes 115 horsepower, but buyers can upgrade to a 2.5-liter, turbo, turbo diesel, or hybrid. The turbo offers the most thrust with 200 horsepower, and the hybrid is the mileage champ at 48 mpg on the highway.
Sharpened Focus

A quick look around the Focus reveals that it's a cut above the average economy car. The styling manages to be sharp and expressive without offending conservative buyers. It's obvious that interior refinement was a high priority during development. High-quality materials abound, and the dashboard flows beautifully across the driver and front passenger.
The Ford's standard 160-horsepower 2-liter engine is potent for this class and still delivers up to 40 mpg on the highway. Crisp handling and a well-balanced suspension contribute to overall driver satisfaction in daily commuting.
Best Impressions
The Jetta seems like a car you can live with and enjoy for years. Its main strengths -- value and practicality -- are likely to be appreciated even more with time. The Ford counters the VW's punch with performance and refinement that defy its economy-car price.
Our Verdict: Ford Focus
The Ford's interior quality and enjoyable driving characteristics make it an outstanding choice.
Take a closer look at the Volkswagen Jetta >>