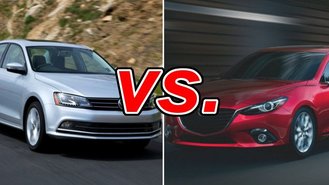 The current generation of Volkswagen's sensible Jetta adheres to the traditional economy-car formula: low price, high practicality, and no-nonsense styling. The payoff for sticking to the basics is an efficient sedan that doesn't disappoint on room or function.
See a side-by-side comparison of the Jetta & Mazda3 »
Mazda takes a different tactic with the Mazda3. It's a nimble, almost sporty econo-compact that focuses on pleasing the driver.
Which approach works better for the majority of buyers?
Where the Jetta Stands Out
The Jetta optimizes the notion of a lot of car for the money. Interior and trunk space come close to midsize levels, and features like heated outside mirrors and express up/down windows are included in the modest base price. The Jetta offers clean and sensible styling inside and out, which makes it unique in a field that thrives on trends and cuteness.
Engines range from the standard 1.4-liter turbo that delivers 150 horsepower and up to 40 mpg highway to the range-topping 2-liter tops out at 210 horsepower in the GLI trim.
Where the Mazda3 Stands Out
The sprightly Mazda3 carries out the brand's mission to provide some fun for the driver in all of its models. Horsepower starts out at a healthy 155 with the 2-liter that delivers up to 41 mpg highway, and goes up to 184 in upper-trim models with the 2.5-liter engine. Firm suspension tuning and communicative steering provide athletic handling that's easy to appreciate in everyday driving.
Mazda deploys quality materials throughout the interior, so there's little evidence you're riding in an economy car.
The Best Case for Each
The Jetta offers a sober personality and fine interior room at a price point that will make shoppers recheck the window sticker. What it may lack in flair, it gains in sheer capability for the money.
The Mazda3 is one of the few econo-compacts that offer engaging road manners combined with a civilized environment inside. It trails the Jetta in ride comfort, but pays you back in the form of sweeter handling.
Our Verdict: Mazda3
The Jetta succeeds in capturing what's important in an economy car. The Mazda3 does that, too, while offering a more spirited driving experience.
Take a closer look at the Volkswagen Jetta »