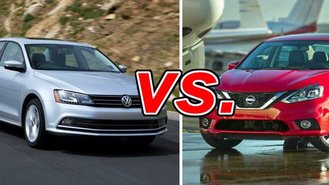 Volkswagen's volume compact, the current Jetta has attracted plenty of buyers in recent years with its room, efficiency, and easy price. Despite its grown-up looks, the Jetta carries the lowest MSRP in the VW lineup.
Vying for the same market as the Jetta, the Nissan Sentra offers mini-luxury car styling and a mature interior that would look at home in a much larger sedan.
Which has more of what buyers want in an economical sedan?
See a side-by-side comparison of the Jetta & Sentra »
Where the Jetta Scores
No matter your brand preference, everyone can agree that the VW is a lot of car for the money. Interior and trunk space come close to mid-size levels, and features like heated outside mirrors and express up/down windows are included in the modest base price. The Jetta offers clean and sensible styling inside and out, which makes it unique in a field that thrives on trends and cuteness.
The standard 1.4-liter turbocharged four-cylinder puts out 150 horsepower and delivers up to 33 mpg in combined city and highway driving. You can upgrade to a 1.8-liter turbo with 170 horsepower. Both engines come standard with a five-speed manual transmission, and a six-speed automatic is optional. At the top of the engine roster is a 2-liter turbocharged four-cylinder that achieves 210 horsepower. The 2-liter can be paired with a six-speed manual transmission or a six-speed automated manual.
Where Sentra Scores
The Sentra aims for above-average refinement for its class and certainly achieves it. The understated styling will remind you of more expensive cars and is likely to wear well over time. There's more passenger space than before, even though weight has dropped a bit. Fit and finish are excellent throughout, well beyond anything found in previous Sentras.
Underneath the skin, the focus is efficiency. The 1.8-liter four-cylinder makes 130 horsepower, which is nothing special, but the Sentra can hit 40 mpg on the highway when equipped with the available automatic transmission.
See more sedan comparisons here »
Which Stands Out?
Buyers stepping down from larger cars will undoubtedly appreciate the refined Sentra. It hides its economy-car roots fairly well with upscale looks, quality trim, and smooth operation. The Jetta is not so plush, but offers an impressive array of engines and equipment packages. Both cars are ultra-competitive when it comes to price.
Our Verdict: Volkswagen Jetta
A well-rounded, practical player, the Jetta comes closer to economy-car perfection.
Take a closer look at the Volkswagen Jetta >>