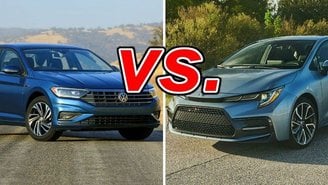 An all-new Volkswagen Jetta showing significant gains in technology, interior space, and overall style debuted in the 2019 model year. Despite the improvements, the Jetta remains VW's most affordable model. Not to be outdone, the Toyota Corolla receives an effective redesign for the 2020 model year with emphasis on image and performance. Buyers who found the previous Corolla too bland for their taste have nothing to worry about anymore. Now that both compact sedans are at the top of their game, which one impresses us more?
See a side-by-side comparison of the Jetta & Corolla »
What the Jetta Gets Right
In terms of size and styling, the Volkswagen Jetta can easily pass for a mid-size sedan. It looks like a car for grown-ups and will seat five of them without complaint. VW's highly regarded Digital Cockpit is now standard, and the higher trims get a full complement of driver assist features. The suspension is tuned for passenger comfort, which seems like right approach for a commuter sedan.
Every Jetta is powered by 1.4-liter turbocharged four-cylinder that produces 147 horsepower and 184 pound-feet of torque. Most models carry an eight-speed automatic transmission. A six-speed manual is available on the base model only. Either way, the Jetta is EPA-rated at 30 miles per gallon city, 40 mpg highway, and 34 combined.
What the Corolla Gets Right
The Toyota Corolla now offers more visual excitement than any sedan in this class. The aggressive nose and contoured sides give it a muscular look without going overboard. The interior has been decluttered and reshaped into a classy cocoon that suggests the Corolla should cost more than it does.
Every Corolla comes laden with technology like adaptive cruise control, lane keeping assist, automatic high beams, and Apple CarPlay. New engines and chassis updates go a long way to enhancing the driving experience.
The standard 1.8-liter four-cylinder delivers 139 hp and 126 lb-ft of torque. A continuously variable automatic transmission comes standard. The EPA rates this setup at 30/38/33 mpg (city/highway/combined).
The optional 2.0-liter four-cylinder provides a real boost in performance and slightly better efficiency. The engine delivers 169 hp and 151 lb-ft of torque, and is EPA-rated at 31/40/34 mpg.
What's the Difference?
The VW Jetta furnishes most of the room and comfort of a family sedan, while staying true to its compact footprint in terms of price and efficiency. Buyers have always flocked to the Toyota Corolla for its practicality, and now they can get it in a livelier, more refined package. But what really maters in this matchup is value. When equipped with active safety technology, the Jetta gets $3,000 more expensive, while the Corolla doesn't move off its base price.
Our Verdict: Toyota Corolla
The latest Toyota Corolla is the textbook definition of a lot of car for the money.
Take a closer look at the Volkswagen Jetta »