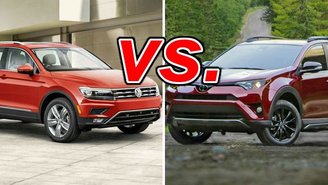 Volkswagen has totally reworked the Tiguan for 2018, endowing the compact crosser with more interior space and a full slate safety technology. It handles people and things far better than before while retaining its proven ability to handle the road.
To measure the capability of the redesigned Tiguan, we put it up against the Toyota RAV4, one the most successful small crossovers ever built. Yearly updates aside, the RAV4 hasn't fundamentally changed since 2013. Does it still deserve a top spot on your shopping list, or is the fresher Tiguan now a more compelling choice?
See a side-by-side comparison of the Tiguan & RAV4»
What the Tiguan Gets Right
The previous Tiguan received high marks for its premium feel and overall athleticism, but not its smallish interior and lack of safety options. Those shortcomings have been cured in a big way for 2018. The new Tiguan is 10 inches longer, resulting in significantly more rear legroom and up to 73.5 cubic feet of cargo space. There's even an optional third row for seven-passenger capacity.
Most models come standard with blind spot monitoring, rear cross-traffic alert, and forward collision warning with automatic emergency braking. Surround-view cameras and lane keeping assist are available at the top of line.
Every Tiguan is powered by a 2.0-liter, turbocharged four-cylinder turbocharged engine with 184 horsepower, paired with an eight-speed automatic transmission. According to EPA estimates, the Tiguan achieves 24 miles per gallon in combined city and highway driving, or 23 mpg with the optional all-wheel drive system.
What RAV4 Gets Right
The RAV4 carries even more standard safety equipment this year, including adaptive cruise control, lane keeping assist, and automatic high beams. That's some pretty sophisticated technology for this price class, and every model gets it.
The RAV4's best attributes haven't changed in years: quiet running, a relaxing ride, and ample interior room. Cargo space tops out at 73.4 cubic feet, and the rear seats fold virtually flat.
The 2.5-liter four-cylinder engine generates 176 horsepower and comes with a six-speed automatic transmission. The RAV4 earns an EPA-estimated 26 mpg combined, or 25 mpg with all-wheel drive.
Will the Tiguan become as popular as the RAV4?
Volkswagen has kept the best of the Tiguan while improving just about everything else. All of our past reservations have been washed away by an effective redesign.
The RAV4 continues its passenger-friendly, practical ways without feeling the slightest bit stale. It's still razor-sharp in terms of technology and efficiency, two attributes that don't usually improve with age.
Our Verdict: Toyota RAV4
The Tiguan gets our vote for most improved small crossover. But the RAV4 had very little room for improvement, so this year's evolutionary changes are enough to keep it ahead.
Take a closer look at the Volkswagen Tiguan »