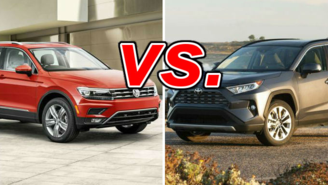 Compact crossovers have changed a lot over the years, and two that have gone through tons of updates lately are the Toyota RAV4 and Volkswagen Tiguan. The RAV4 moved from cushy soft-roader to looking about as rugged as it gets in a crossover, while the Tiguan grew from a cramped two-row crossover to a spacious three-row machine that bridges the gap between compact and mid-size vehicles. Which of these compact crossovers is best for you? Find out below.
See a side-by-side comparison of the Tiguan & RAV4 »
What the RAV4 Gets Right
The Toyota RAV4 rolls in with an all-new look that puts a fresh spin on the compact crossover segment. Instead of a smooth body with minivan-meets-sedan proportions, the RAV4 boasts an upright and surprisingly rugged look. It pushes this new design further with its Adventure trim that boasts black badges, added body cladding, a higher ride height, and faux skid plates.
Inside, the RAV4 continues its styling dominance with an angular and stylish cabin that boasts a dash-top infotainment screen, a stubby gear shifter, and horizontal elements that enhance the airy feeling in the cabin.
The Toyota RAV4 also follows the brand's latest trend of offering tons of standard advanced safety tech, including automatic emergency braking, adaptive cruise control, lane keeping assist, and more. These are all optional on the Tiguan.
Finally, the RAV4 is a leader in fuel economy with its hybrid variant that gets up to 40 miles per gallon combined, according to the EPA. Plus, with 219 horsepower under its hood, the RAV4 Hybrid is peppier that most buyers would expect.
What the Tiguan Gets Right
Though its styling is toned down and a touch vanilla, some buyers appreciate the VW Tiguan's simpler look. Plus, more people can enjoy the Tiguan at once thanks to its third-row seat that pushes the passenger capacity to seven.
Comfort is top notch in the VW, especially in the first and second rows. This makes long road trips far more bearable with the kiddos, as will its standard Apple CarPlay and Android Auto – the RAV4 doesn't offer the latter. Speaking of entertainment and connectivity, the Tiguan's infotainment system software is logical and easy to use, even for newcomers.
Got a Big Family? Only the Tiguan Will Do
The RAV4 is a pretty easy choice over the Tiguan, but if you frequently haul over four people, the three-row Volkswagen Tiguan is the way to go without making huge sacrifices.
Our Verdict: Toyota RAV4
The Toyota RAV4's redesign brings in the rugged look this segment has lacked without sacrificing its refinement. It's not only feature-packed and good looking, but the RAV4 is also thrifty, off-road ready, and roomy. It's a tough crossover to beat.
Take a closer look at the Volkswagen Tiguan »