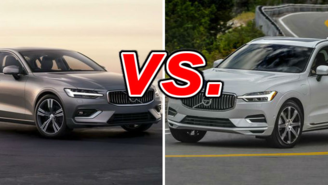 While crossovers and SUVs provide you with extra versatility and a higher-up seating position, they generally cost a lot more money than their sedan counterparts. SUVs are also bigger, which makes them harder to drive in tight, urban areas. If you're still on the fence about making the switch from a sedan to a SUV, here's a comparison between the Volvo S60 and Volvo XC60 that should make the decision easier.
See a side-by-side comparison of the S60 & XC60 »
What the S60 Gets Right
The 2019 Volvo S60 is the cheaper option of the two. The sedan starts at $36,795, while the XC60 has a starting price tag of $40,795 (both prices include destination). While both the S60 and the XC60 share the same base engine – a 250-horsepower 2.0-liter turbocharged four-cylinder engine – the sedan is the more fuel-efficient option. The S60 achieves an EPA-estimated 24 miles per gallon city, 36 mpg highway, and 28 combined, while the XC60 only gets 22/29/24 mpg (city/highway/combined).
In addition to being more affordable than the XC60, the S60 is also available through Volvo's subscription service, which is called Care by Volvo. For $750 a month, you can get into a S60 T6 Momentum and not have to worry about insurance, maintenance, road hazard protection, or wear and tear, as it's all rolled into one convenient price. The XC60 isn't available through Care by Volvo.
What the XC60 Gets Right
As the taller and wider vehicle, the XC60 offers passengers with more interior space than the S60. The XC60 has more front head room, shoulder room, and hip room, as well as more rear head room, shoulder room, leg room, and hip room than the S60. The SUV also has a more spacious cargo area, as it's rated to hold up to 63.3 cubic feet of cargo, while the S60 is rated to have 11.6 cubic feet of cargo space.
Including all-wheel drive, the XC60 is offered in 12 different variants, while the S60 is only available in eight. In addition to having more available trims, the XC60 is also available in a plug-in hybrid variant, which isn't the case for the S60.
Need Extra Space?
Choosing between the S60 and the XC60 is pretty simple: do you need extra space? If so, the XC60 is the obvious choice. If you're okay with a sedan, then the S60 is a great choice. The XC60, though, is a better choice for families, expecting parents, or drivers that regularly ferry five passengers.
Our Verdict: Volvo XC60
With extra space, more trims to choose from, and more versatility, the Volvo XC60 is the better choice for the majority of drivers. While it may cost more money than the Volvo S60, the XC60 is something that you can grow into because of its spacious interior and cargo area.
Take a closer look at the Volvo S60 »