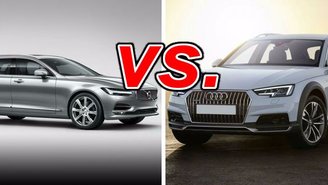 The wagon segment is steadily growing in popularity among luxury-car buyers, and after a 20-year break, Volvo decided to join in the fun with the new V90.
This new Volvo wagon will meet some stiff competition in its debut year, including the Audi Allroad. While the Audi's lifted body and Quattro all-wheel drive make it the better off-roader of the two, the V90 still has a chance with the typical wagon shopper.
Continue reading to find out if the new Volvo V90 can tackle the Allroad.
See a side-by-side comparison of the V90 & Allroad »
What the V90 Gets Right
Thanks to its larger body, the V90 has a slightly roomier cabin for occupants, including 0.3 inches more rear headroom and nearly an extra inch of front seat leg room. It can also haul up to 69 cubic feet of cargo to the Allroad's 58.5 cubic feet.
In the powertrain department, the V90 delivers more options and some added power that the Allroad can't match. The V90's midrange T6 powertrain delivers a respectable 316 horsepower to the Allroad's 252 ponies. At the top of the range, the soon-to-arrive T8 Twin Engine Plug-In Hybrid powertrain will inject around 400 hp when it finally arrives. Like the Allroad, the T6 and T8 powertrains both come standard with all-wheel drive.
Finally, the V90 is rated to tow up to 3,700 pounds, whereas Audi doesn't rate the Allroad for towing in the U.S.
What the Allroad Gets Right
The Allroad jumps in with a lower base price of $45,450 (including $950 destination fee), which leaves an extra $5,495 in spending money to add more options to its already long list of standard features.
Under its hood, the Audi Allroad's standard 2.0-liter engine outmuscles the V90's base T5 powertrain with its 252 hp and 273 pound-feet of torque. What's more, the base Allroad comes standard with all-wheel drive, while the base V90 doesn't even have the option.
The Allroad also enjoys 6.5 inches of ground clearance, or 0.3 inches more than the V90. The only version of the V90 that can beat the Allroad in ground clearance is the V90 Cross Country (listed separately), which boasts 8.2 inches of clearance.
Allroad Is A Must On Nastier Roads
While the V90 is the better all-around wagon, the Allroad has firm grip on its niche market, including buyers looking to get off the beaten path on a regular basis.
Verdict: Volvo V90
It's not a blowout by any stretch, but the V90 manages to pull out a slim victory. Its standard equipment, ride quality, interior space, cargo capacity, and finally, its superior towing are too much to overcome for Audi's attractive Allroad.
Take a closer look at the Volvo V90 »