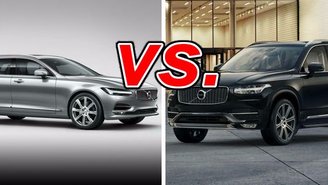 After a 20-year hiatus, a big station wagon returns to Volvo's lineup for 2018. While the new V90 wagon will scratch the itch of select buyers, it will leave some wondering if it's a better option than the XC90 crossover, which it shares a platform with.
We dive into both the Volvo V90 and XC90 to find out which is the better buy. Continue reading to find out what we think.
See a side-by-side comparison of the V90 & XC90 »
What the V90 Gets Right
The wagon body remains rare here in the US, giving buyers a unique vehicle that attracts plenty of attention. On top of its unique look, the V90's clean design will stay stylish for years to come.
While the V90's T5 and T6 powertrains are the same as the XC90's T5 and T6 units, the 481 pounds the V90 saves over the XC90 should give it an advantage in a straight line, while the lighter weight and its lower center of gravity should be a boon in corners.
Inside, the V90 treats the driver and front passenger to an extra 1.3 inches of leg room, making the V90 more comfortable for those with longer legs.
What the XC90 Gets Right
Despite being a larger crossover, the XC90's $46,745 starting price (including $995 destination fee) is actually slightly lower price than the V90, which starts from $50,945, giving buyers a little extra coin to throw at options or to just save.
While the XC90's T5 powertrain is virtually identical to the V90's, the XC is available with all-wheel drive – the V90 T5 is only available with front-wheel drive.
Finally, the XC90's interior is more spacious, with room for up to seven people. What's more, The XC90's second row has an extra 1.1 inches of leg room when compared to the V90 and can swallow up to 85.7 cubic feet of cargo to the V90's 78.3 cubic feet.
Want to be Unique? Get the V90.
The V90 loses a tight one versus its stablemate, but its uncommon body style sucks in consumers looking for something different. If standing out in the crowd is what matters most, the V90 is the Volvo for you.
Verdict: Volvo XC90
It hauls more cargo, has similar powertrains, and can carry more people. While we hate giving the nod to a crossover when its competing against something as cool as an old-school wagon, the XC90 is the better all-around choice.
Take a closer look at the Volvo V90 »