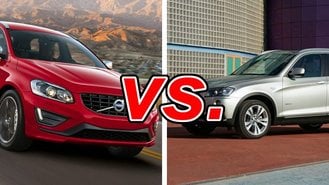 When the BMW X3 first debuted back in 2003, it not only gave buyers a smaller alternative to the larger X5, but also expanded BMW's sport utility vehicle lineup to reach a wider range of customers. However, critics blasted it for a lofty price tag, questionable interior materials, and disappointing off-road performance. The latest BMW X3 aims to rectify these issues while also rewarding buyers with a solid driving experience.
See a side-by-side comparison of the XC60 & X3 >>
Are the changes enough to fend off rivals such as the Volvo XC60? Or has the X3 finally met its match in the hotly-contested luxury CUV segment?
What The BMW X3 Gets Right
Despite its rather mundane exterior styling, the BMW X3 offers buyers a compelling mixture of versatility, luxury and performance that work together to make the X3 stand out against rivals. A new 2-liter turbocharged four-cylinder base engine -- borrowed from the 328i sedan -- provides spirited performance and is mated to an eight-speed transmission for better fuel economy. The interior, with classy design and ample room for passengers, makes the X3 a strong choice for families.
Why Choose The Volvo XC60 Over The BMW X3?
The stylish Volvo XC60 rewards buyers with its Swedish take on world-class luxury and refinement. The Volvo's 240-horsepower 3.2-liter six-cylinder base engine matches the power of the X3's 2-liter engine; the XC60's 3-liter turbocharged six also goes head-to-head with the X3's 3-liter power plant.
The XC60 features a comfortable interior with high-quality materials. Big knobs and buttons were designed to be operated while wearing gloves and should please buyers in cold climates. Volvo's compact crossover also continues a tradition of safety with the latest technology.
Has The XC60 Become a Viable Alternative to German Luxury SUVs?
While the XC60 is a competent entry in the luxury CUV segment, it still falls short in several key areas. The Volvo's six-speed automatic has two fewer gears than the X3, while fuel economy figures for both of its engines are lower than the X3 and other rivals.
Our Verdict: BMW X3
Despite the XC60's emphasis on safety and comfort, it cannot hold a candle to the X3's superior performance numbers and fuel economy.
Take a closer look at the Volvo XC60 >>