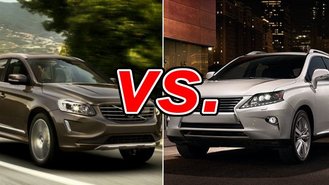 Crossover SUVs make up a healthy percentage of the car market today, popular for their comfort, refinement and family-friendly design. Volvo and Lexus both have high-ranking models on the market, and each is playing to win. With solid handling, pleasing designs and features galore, choosing one vehicle over the other is difficult.
See a side-by-side comparison of the XC60 & RX 350 »
Both the Volvo XC60 and RX 350 have a lot to offer, but which one deserves first place?
Where the Volvo XC60 Shines
Volvo's take on the crossover is friendly and stylish. Each of the XC60's two trims -- T5 and T6 -- is available in Standard, Premier, and Platinum trims for the ultimate in customization. The base T5 Drive-E comes standard with a 240-horsepower 2.0-liter engine, while the T6 gets a turbocharged and supercharged 2-liter that produces 302 horsepower, and the T6 R-Design gets a turbo 3-liter V6 with 325 horsepower.
The XC60 has a comfortable and roomy interior, optional integrated booster seats, and enough cargo space to accommodate the whole family.
Where the Lexus RX 350 Shines
The RX 350 enters an all-new generation with a completely restyled body that adds a lot more sportiness to the luxurious crossover. With this generational change comes a standard 3.5-liter V6 engine that produces 295 horsepower and mates to an eight-speed auto transmission.
Even without any upgrades, the standard features of the RX are a cut above the competition, providing luxury and entertainment aplenty with its nine-speaker audio system, bi-LED headlights, and rearview camera. There is plenty of roominess in the front and rear seats for passengers of all sizes. Parents will like the RX's safety and reliability, and drivers of all ages will appreciate its smooth and quiet manners on the road.
Where That Leaves Us
On one side is the family-friendly, tech-savvy Volvo. On the other side is the luxurious, multipurpose Lexus. Both are well-designed, get high safety ratings, and have good standard features.
Our Verdict: Lexus RX 350
The RX 350 offers superior luxury, utility and dependability, all in one sleek package.
Take a closer look at the Volvo XC60 »