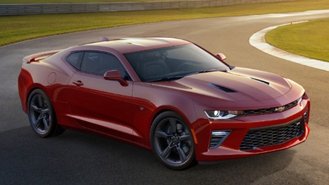 With the redesigned 2016 Chevrolet Camaro due to go on sale this Fall, GM is hoping to unleash a vastly superior car compared to its predecessor. However, the new car will be considerably more expensive. Changes to the order sheet are increasing the starting price by $1,995, with year-over-year price increases as high as $3,995. So how is Chevy making the price increases? Are some versions more expensive than others? And are there deals? Here's what you need to know.
Higher price of entry
With a starting price of $23,705 before destination, the 2015 Camaro LS has been the most affordably priced car in its segment. However, all that will be changing. Chevy has decided to do away with the LS in favor of a simplified lineup of just the LT and SS variants for 2016.
Priced at $25,700, the 2016 Camaro 1LT equipped with the new 2.0-liter turbo is $305 less expensive than last year's 1LT V6. But what this really means is that the base price for the Camaro has gone up by $1,995 since the LS will no longer be offered.
And that's not all- since the optional V6 has been priced at $1,495, this equates to a price of $27,195 for the 1LT V6. That's a $3,490 premium over the most affordable V6 of the outgoing model. As a result, it will become one of the most expensive V6 muscle cars with the exception of the Dodge Charger.
While this is certainly a bit of a numbers game, we'll emphasize that we're essentially comparing two different cars since the 2016 is a total redesign with revised engines, interior- the works. For comparison purposes, here's what the muscle car scene looks like in terms of entry prices.
| | | | |
| --- | --- | --- | --- |
| Vehicle | Base Price | Engine Specs | Output |
| 2015 Chevrolet Camaro 1LS | $23,705 | 3.6-liter V6 | 323 hp, 278 lb-ft |
| 2015 Ford Mustang V6 | $23,800 | 3.7-liter V6 | 300 hp, 280 lb-ft |
| 2016 Chevrolet Camaro 1LT | $25,700 | 2.0-liter Turbo 4 | 275 hp, 295 lb-ft |
| 2015 Dodge Challenger SXT | $26,995 | 3.6-liter V6 | 305 hp, 268 lb-ft |
| 2016 Chevrolet Camaro 1LT | $27,195 | 3.6-liter V6 | 335 hp, 284 lb-ft |
| 2015 Dodge Charger SE | $27,995 | 3.6-liter V6 | 292 hp, 260 lb-ft |
*See note at bottom of page for more info about these numbers.
Higher price for performance
It's not just the entry-level models that are getting more expensive. The biggest changes will affect shoppers considering the redesigned Camaro SS.
The 2016 1SS will start at $36,300, a $2,795 increase over last year's price of $33,505. Even more striking, the top-spec 2SS will start at $41,300, a whopping $3,995 increase over the outgoing model.
To be fair, the revised V8 will make the car the most powerful Camaro SS ever offered with up to 455 hp with 455 lb-ft of torque. Features like Magnetic Ride Control will also be available, though it will add $1,695 to the base price.
Learn more about the redesigned 2016 Chevy Camaro »
Where the deals are
Shoppers who don't need to have the latest version have a good opportunity to buy the outgoing model at a discount. In regions like California, rebates worth $2,250 are making it a solid value. Even better, shoppers leasing a competing vehicle are eligible for a $500 bonus, bringing potential savings to $2,750 before dealer discounts.
Alternatively, shoppers preferring to lease get an outstanding deal on the LS Coupe of $199 per month for 39 months with $2,899 due at signing. When you factor the payment and amount due, this translates to an effective monthly lease cost of $273. That's $62 per month less than a Ford Mustang and $79 less than the Dodge Challenger.
| | | | | |
| --- | --- | --- | --- | --- |
| Vehicle | MSRP | Rebates | Lease Deal (Pmt/Due/Term) | Effective Lease Cost |
| 2015 Chevrolet Camaro LS | $24,700 | $2,250 | $199/$2,899/39 | $273 |
| 2015 Ford Mustang V6 | $25,820 | $500 | $259/$2,749/36 | $335 |
| 2015 Dodge Challenger SXT | $27,990 | $1,000 | $269/$2,999/36 | $352 |
| 2015 Dodge Charger SXT | $30,990 | $2,500 | $299/$2,999/36 | $382 |
Our take
On the surface, the moves are reminiscent of a decision by Fiat Chrysler to raise prices up to $4,200 for Dodge Challengers and Chargers powered by the popular 707-hp Hellcat engine. However, that's arguably a unique case in which strong demand, limited supply, and added standard equipment seem to justify the increase.
GM appears to be betting that the new Camaro will be so good that shoppers will be willing to pony up. Perhaps the automaker thinks it will enjoy the success the Ford Mustang received when it was last redesigned- it continues to sell well on its own merits despite modest incentives.
But will the new Camaro resonate enough with shoppers to justify the higher price? And will some shoppers be shocked once generous incentives on the outgoing model finally dry up once it sells out? That remains to be seen.
See the largest discounts this month ranked by segment »
*Figures listed in the table are for illustrative purposes and exclude destination and assume a base configuration, which may include a manual transmission if applicable. We've listed 2015 versions of the Ford and FCA models since 2016 models have either not yet been released or are still beginning to arrive.
For an easy way to find the best deals, visit the CarsDirect Deals Page for the latest deal-related news and analyses. Browse expert buying advice updated monthly on nearly 300 models for insider insights you'll only find at CarsDirect. Be sure to sign up for email alerts to have the latest deals delivered straight to your inbox.
Offers listed here are based on a resident in Southern California and may be subject to change. Most lease offers are for well-qualified buyers based on available credit and exclude tax, license, title, registration, document fees and insurance. Not all buyers may qualify. Please check with your CarsDirect Trusted Dealer to confirm details and eligibility.