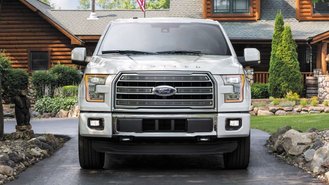 With a major redesign for 2015, the Ford F-150 has certainly made waves. An emphasis on advanced materials and technology have helped set it apart from competitors. For 2016, Ford is going further with the range-topping F-150 Limited. Official pricing documents reveal that the truck is set to become one of the most expensive F-150s ever, up to $6,895 pricier than last year's F-150 Platinum. But what will you get for the money? And what should shoppers expect in terms of deals? Here's what you need to know.
Top-tier everything
With a starting price of $58,480 for the F-150 Limited 4x2 and $61,905 for the 4x4, the truck easily surpasses last year's Platinum model as the most expensive F-150. In fact, it commands a $6,895 premium over a comparable 2015 Platinum model. To put that in perspective, shoppers who remember the 2014 F-150 SVT Raptor may be surprised to learn that the Limited will be over $14,000 more expensive.
For the top-tier price, Ford is offering some pretty advanced equipment you may not expect on a truck. A unique grille emblazoned with "Limited" on the hood and with 22-inch wheels are the obvious design cues. But the real differences are a bit more subtle.
Power running boards help set the stage for entry, but the centerpiece is arguably a panoramic vista roof and Mojave leather seating with heating, cooling, and massage. Safety tech like blind-spot warning and 360-degree camera provide additional assurance. A new Pro Trailer Backup option costing $395 is designed to make it easy to back-in to narrow spaces using a special knob that allows the truck to adjust steering and speed.
Read our full preview for the 2016 F-150>>
How it stacks up
Here's a look at how the F-150 Limited stacks up versus its competition. We've included pricing for last year's top-tier Platinum model for reference. For simplicity, prices here are for 4x4 Crew Cab models with comparable box sizes, and exclude destination and optional equipment.
The pricing equates to a $10,315 premium over the 2015 Silverado High Country and $8,740 premium over the 2015 GMC Sierra Denali. These are not small amounts by any means. Which begs the question- what is the Limited really competing with?
Side-by-Side: Platinum vs. Denali vs. High Country>>
Where the deals are
Although the F-150 Limited hasn't been released yet, the trend we've been seeing has been for Ford to limit incentives on upper-spec models. In fact, the automaker abruptly canceled rebates on King Ranch and Platinum models several months ago while bolstering incentives on volume sellers like the XL and XLT.
Deals on the popular 2015 XLT model have been robust, with up to $7,050 in savings in recent months factoring an array of incentives and equipment discounts. However, you'll need to select certain configurations to get the most savings. So far, the best deals have been on the XLT Super Crew model with the Chrome Package and 2.7-liter EcoBoost engine.
Media reports back in July made a big deal about $10,000 discounts in certain regions, but our analysis revealed that to actually be a bizarre marketing tactic. In short, the figure included an estimated dealer discount of nearly $3,000 that shoppers were not guaranteed to receive.
See this month's top-ranked truck deals>>
Our take
Well-equipped trucks have been doing surprisingly well, helped by low gas prices and accessible financing. Pickup sales were up over 10% last month, and a good range of attractive choices and sweet deals have helped grease the wheels for growth.
With vehicle transaction prices continuing to increase, it will be interesting to see the effects expensive trucks like the F-150 Limited end up having. Deals have been light on Ford's priciest trucks, but this doesn't appear to be slowing down shoppers demanding the latest and greatest.
Start your search for a new truck>>
For an easy way to find the best deals, visit the CarsDirect Deals Page for the latest deal-related news and analyses. Browse expert buying advice updated monthly on nearly 300 models for insider insights you'll only find at CarsDirect. Be sure to sign up for email alerts to have the latest deals delivered straight to your inbox.
Offers listed here are based on a resident in Southern California and may be subject to change. Most lease offers are for well-qualified buyers based on available credit and exclude tax, license, title, registration, document fees and insurance. Not all buyers may qualify. Please check with your CarsDirect Trusted Dealer to confirm details and eligibility.