If you've been waiting for a discount on the 2017 Alfa Romeo Giulia, we have good news. Today, the automaker introduced a $1,750 conquest bonus, more than doubling the amount of a previous offer.
The new incentive targets current owners & lessees of a competitor. So who's eligible for the promotion? Can the deal be combined with other offers? And are there any exclusions?
Here's what you need to know.
Offers assume a Southern California location unless noted otherwise.
Offer Details
Through May 31, Alfa Romeo is offering a $1,750 conquest bonus on most versions of the 2017 Giulia. Like previous offers, this one targets an extremely broad range of brands.
To get the deal, simply show proof that you own or lease any non-FCA vehicle. In other words, any brand other than Chrysler, Dodge, Jeep, RAM or FIAT. You don't need to trade-in your car, and the offer can be transferred to members of the same household.
The only real exclusion (and it's a big one) is the power-packed Quadrifoglio. While that's unfortunate, it's not exactly surprising. The 505 hp twin-turbo model has thus far only been eligible for finance incentives, which are mediocre to begin with.
If you weren't planning on spending $73,595 on the Quadrifoglio, this probably won't matter. That said, you can take some solace in the fact that the deal can be stacked with finance and lease incentives. That's a good thing, because those offers are pretty terrible.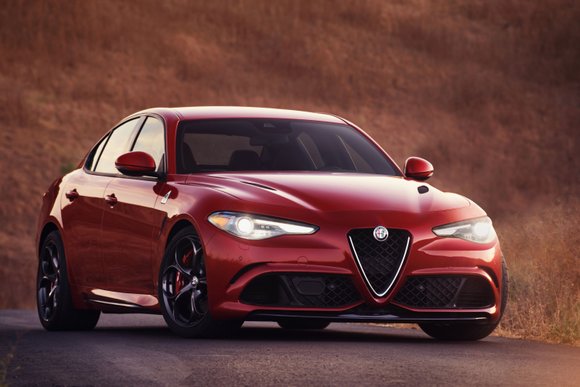 This month, Alfa Romeo is offering 1.9% APR for 36 months on the Giulia. Longer terms are available, but at considerably higher rates: 2.9% for 48 months or 3.9% for 60. We don't recall ever seeing 0% APR on this model, and don't expect to anytime soon.
Up until now, the only deal worth noting was a $750 lease conquest bonus. That particular offer targeted lessees of non-FCA vehicles. The key difference with today's new offer is that you aren't required to come from a lease.
This is a pretty big change since it opens up the discount to a much wider range of buyers. At the same time, FCA has quietly cancelled the previous offer. However, that shouldn't present a problem since the new incentive is worth $1,000 more than the one before.
Promotional leases on the Giulia are pretty awful. The 280 hp Base RWD model starts at $379 for 24 months with $4,299 due at signing and 10,000 miles per year of driving. With an effective cost of $558, that's at least $120 (per month!) more than a 340 hp 2017 Jaguar XE 35t Premium AWD.
For comparison, the 35t in question leases from $299 for 36 months with $4,995 at signing and has an effective cost of just $438. There's even a $1,000 customer credit this month that you can use to reduce your cost. If you can believe it, that's despite the XE having an MSRP that's $6,205 higher.
Our Take
The latest offer on the Giulia represents a sharp spike that we haven't seen before on this model. If you're eligible, it's a good opportunity to help lower your price, not to mention make some of the vehicle's abysmal lease incentives a bit more palatable.