The 2017 Chevy Volt has finally starting arriving at a handful of dealers after months of waiting. Unlike the 2016 model, the car will eventually go into wide release rather than just the handful of states in which it was initially offered. It will also get some welcome options like adaptive cruise control as well as stricter emissions.
To help get the ball rolling, GM has issued its first purchase and lease offers on the 2017 model hitting dealers now. So are the deals any good? Who's eligible? And how do the offers compare to the 2016 model? Here's what you need to know.
Deal overview
Starting February 24, GM is offering $1,000 cash back on all versions of the 2017 Volt. For the moment, the offer is only available in the following states: California, Connecticut, Massachusetts, Maryland, Maine, New Hampshire, New Jersey, New York, Oregon, Rhode Island and Vermont.
GM Financial is also offering discounts for leasing. Nationally, there's $2,300 that can be used toward capitalized cost reduction, but there's an additional $2,250 in the regions mentioned above that can be combined for up to $4,550 in potential discounts.
Shoppers coming from an existing GM lease or from a competitor may be eligible for a $500 bonus that can be used toward the purchase or lease of a 2017 Volt.
Current incentives are set to begin expiring February 29 but will most likely be renewed.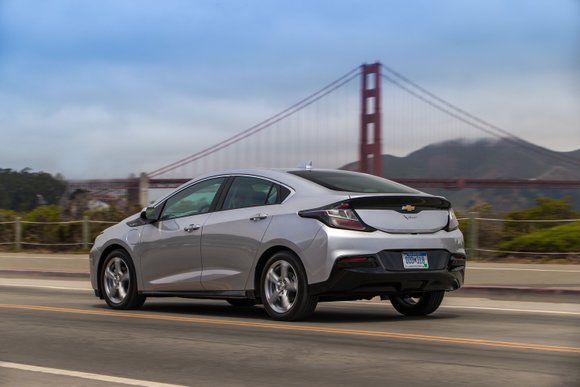 Comparing deals: 2017 vs. 2016
Now that the 2017 Volt has some deals, shoppers will want to weigh their choice carefully. Apart from wider availability, the car may have increased appeal since it will get adaptive cruise control for the first time and be capable of complying with strict Tier 3 emissions standards.
With the latest changes, both the 2017 and 2016 Volt now essentially have the same cash back available. Both get $1,000 rebates and are eligible for a $500 lease loyalty or competitive conquest bonus. That's $1,500 available toward either version.
Shoppers may also benefit from extra support at the state level in regions like California. In a more extreme case, California is due to adopt an income-based eligibility system for plug-in rebates in March. Under the new system, those within 300% of the Federal Poverty Guideline ($35,640 for individuals, $60,480 for a family of three) will soon be eligible for $3,000 in support- double that of moderate income applicants. On the flip side, those at the wealthiest end of the spectrum will no longer be eligible.
As far as leases go, GM has not yet announced advertised payments on the 2017 Volt. However, the 2016 Volt ranks well in our monthly roundup of the best green car deals. In regions where the car is offered, you can lease one from $299 for 39 months with just $500 at signing. Shoppers can turn this into a zero-down lease with either the $500 lease loyalty offer or competitive bonus. The offer features an allowance of 15,000 miles/year, considerably more than most plug-in and EV offers.
Our take
If you can afford to wait, the 2017 Volt may be worth a look based on the latest offers. Considering it will be capable of complying with stricter federal Tier 3 emissions standards and have the option of adding adaptive cruise control, the car may end up being a smarter value over the outgoing version. Be sure to ask your local dealer about pre-orders if the car hasn't arrived yet in your region.
Learn more about the 2017 Chevy Volt>>
For an easy way to find the best deals, visit the CarsDirect Deals Page for the latest deal-related news and analyses. Browse expert buying advice updated monthly on almost 300 models for insider insights you'll only find at CarsDirect. Be sure to sign up for email alerts to have the latest deals delivered straight to your inbox.
Offers listed here are based on a resident in Southern California and may be subject to change. Most lease offers are for well-qualified buyers based on available credit and exclude tax, license, title, registration, document fees and insurance. Not all buyers may qualify. Please check with your CarsDirect Trusted Dealer to confirm details and eligibility.