The all-new 2017 Mazda CX-5 will be arriving soon and is set to make a splash. Along with a completely updated design, it offers advanced features like city emergency braking as standard equipment.
To help get things started, Mazda has rolled out its first finance and loyalty incentives on the brand-new model.
So what are the offer details? Are there any additional ways to save? How does this compare next to competitors? And where are the best deals at the moment?
Here's what you need to know.
Offer Details
Starting this month, well-qualified shoppers are eligible for 1.9% APR for 60 months on all versions of the new CX-5. Unfortunately, there isn't an option yet for extended 72 month financing.
Current Mazda owners can take advantage of a $500 loyalty bonus. You don't need to trade-in your current vehicle, and the offer can be transferred to members of the same household.
Active members of the military may also qualify for an additional $500 Military Appreciation bonus. Retirees within 2 years of separation are also eligible.
Altogether, that's up to $1,000 in potential discounts plus 1.9% financing. Most offers expire April 30.
Our Take
For a brand-new release, current offers on the 2017 CX-5 aren't bad. If you're planning on holding out for a better deal, you may not want to get your hopes up too much.
Offers from Mazda rarely feature deep discounts. Even the 2016 CX-5 only featured a $500 rebate until just recently. This month, that was doubled to $1,000. Alternatively, you can opt for 0% APR for 60 months, or 1.9% for 72.
For reference, the Toyota RAV4 currently features $1,750 cash, while the Nissan Rogue offers 0% APR for 72 months. The 2017 Chevy Equinox features a whopping $3,000 bonus for lessees of an Asian brand, with leases starting at an unbelievable $109 for 24 months with $549 due at signing.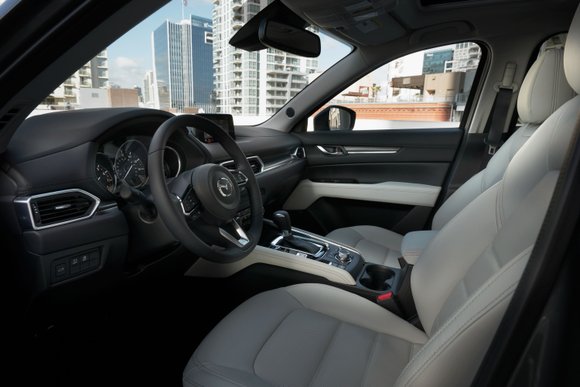 Although there are no lease specials yet on the 2017 CX-5, last year's model ranks quite well. You can lease a 2016.5 CX-5 Sport from $219 for 36 months with $1,999 due at signing.
The reason for the 2016.5 designation has to do with changes made mid-year to add a touchscreen and backup camera on the entry-level model and navigation on Touring and Grand Touring versions.
Based on our analysis, dealers still have a ton of leftover inventory of the outgoing CX-5. If you're looking for some of the best deals of the year, it's a great time to buy last year's version while the selection is still ideal.
Shoppers who prefer the freedom to shift their own gears may also want to buy the older version now that it has been confirmed Mazda will not offer a manual transmission on the latest generation.