The redesigned 2018 Chevy Equinox will be arriving soon and is currently available to order. The updated crossover will gain a slew of turbo engines including an exciting new diesel option, not to mention the latest safety features.
To help get the ball rolling, GM has introduced new Loyalty and Competitive Lessee incentives targeting current lessees and customers coming from a competing brand.
So what do the deals entail? Are there any restrictions or exclusions? When will the offers expire? And are the discounts any good? Here's what you need to know.
Offers listed here assume a Southern California location unless noted otherwise.
GM Loyalty Bonus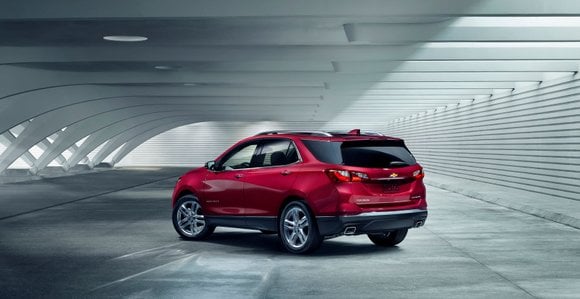 The GM Lease Loyalty Program offers a bonus for current lessees of any GM vehicle toward the purchase or lease of the 2018 Equinox. Chevy, GMC, Buick and Cadillac customers are all eligible.
The offer is available on most Chevy models, but this is the first time we've seen it on the new Equinox. What's nice is that the deal can be transferred to members of the same household and doesn't require you to trade-in your existing vehicle.
The deal on the 2018 Equinox is worth $500 and good through February 28. All versions are eligible except for the base L model. You can even stack it with other incentives like this month's $750 bonus for up to $1,250 in savings.
This is pretty consistent with what we typically see from Chevy. That being said, we've seen this type of discount hit as high as $2,000 on rare occasions with select models, so things can definitely get better if the time is right.
GM Competitive Lessee Bonus
The GM Competitive Lessee Program offers a bonus for current lessees of any 2008 or newer non-GM vehicle toward the purchase or lease of the new Equinox. Most GM models feature similar offers ranging from $500 to $2,000.
The current deal is worth $1,500 toward the new Equinox. Like the loyalty bonus, the only exclusion is the base L model and you can stack the deal with other incentives. Together with this month's $750 bonus, there's up to $2,250 in savings available.
Competitors like Honda rarely offer discounts of this type. The 2018 Equinox is expected to arrive soon at dealerships nationwide. 1.5-liter turbo versions will go on sale first, followed by the more powerful 2.0-liter turbo and all-new turbodiesel later this year.