The 2018 Durango is on sale now, but it's the new SRT variant that's set to make a splash when it arrives later this year. Boasting a power-packed 6.4-liter HEMI V8 rated at 475 hp, Dodge says it'll be the fastest SUV in its class with a 0-60 time of just 4.4 seconds.
However, documents detailing the latest promotional lease offers reveal that the new Durango will be incredibly expensive to lease. In fact, it's currently slated to be more costly to lease than a Grand Cherokee SRT despite a $4,400 difference in sticker price.
So why is the Durango so expensive to lease? How does it compare to leasing the Grand Cherokee SRT? Here's what you need to know.
Big Power, Big Price
With an MSRP of $64,090, the Durango SRT can arguably be considered a sort of performance bargain compared to other borderline insane creations like the $101,695 BMW X5 M. However, leasing one will be a costly prospect, at least to start.
The initial lease on the 2018 Durango SRT starts at $829 for 36 months with $3,999 due at signing. This includes an allowance of 12,000 miles of driving per year. Unlike other Durangos that are eligible for a $1,250 lease discount, there's no such savings on the SRT.
If that sounds like a lot of money, it's because it is. Factoring in both the payment and amount due at signing, the effective cost of the Durango SRT comes in at $940/month. Interestingly, that's more than a 2018 Grand Cherokee SRT.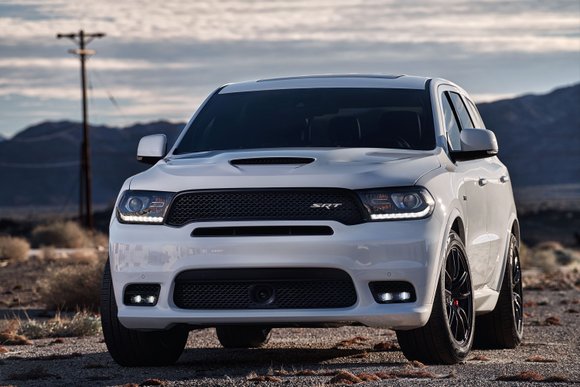 The Jeep is advertised at $834 for 36 months with $3,699 at signing and comes with the same mileage cap. It may be hard to believe, but the Grand Cherokee actually comes out to a better value when comparing costs.
The effective cost of the Jeep equates to $937/month, or $3 less than the Durango. That isn't much, but consider the difference in MSRPs is $4,400 ($64,090 vs. $68,490). If you snatch up a 2017 Grand Cherokee SRT, you can even get one for as low as $907.
For that kind of money, you could theoretically lease a 2018 Dodge Challenger Hellcat for $180 (per month!) less than the Durango. The Hellcat has an effective cost of $760 and an MSRP of $67,885 ($3,795 more than the Durango).
That said, a Challenger doesn't offer three rows of seating or the ability to tow up to 8,700 lbs. For now, the Durango SRT offers a new alternative for shoppers looking for blazing performance and impressive capability.
Build & Price the 2018 Durango »