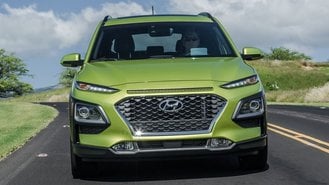 The Kona is Hyundai's new subcompact SUV, built to do battle with the likes of the Honda HR-V, Chevy Trax, and others. Boasting a distinctive look inside and out, the vehicle aims to inject new life into the automaker's lineup.
Now that it's starting to arrive at dealers, the Kona has a new lease promo to start things off. However, our analysis shows that despite the vehicle's low sticker price, it may end up costing you more than a Tucson or Santa Fe Sport.
Here's what you need to know.
Offer Details
Last Friday, Hyundai introduced a new national lease on the 2018 Kona SEL starting at $269 for 36 months with $2,399 due at signing. The offer comes with a standard allowance of 12,000 miles per year.
Unlike the entry-level SE, the SEL comes with a blind spot monitor, rear cross-traffic alert and lane change assist. Contrary to what the name may imply, the SEL is a mid-level model with cloth seats.
So is it a good deal? Not quite.
Based on our analysis, the lease in question has an effective cost of $336/month. Given its MSRP of $22,100, we consider this a particularly poor value for a lease.
Bulletins reveal the Kona isn't eligible for any sort of factory lease cash to help drive down the price. The underlying money factor is 0.00121, which equates to a 2.9% interest rate.
To put this in perspective, you can lease a 2018 Honda HR-V EX-L with Nav (MSRP $26,015) from $239 for 36 months with $2,999 at signing, an effective cost of $322/month.
That means the Honda is $3,915 more expensive on paper but $14/month cheaper to lease. You'll also get features like leather, navigation, Honda LaneWatch, automatic climate control and more.
Current offers end February 28.
Upgrade Options
For around the same amount of money, you could actually lease a 2018 Tucson SE (MSRP $23,500) from $229 for 36 months with $2,799 at signing.
That equates to an effective cost of $307/month, or $29 less than the Kona despite a $1,400 difference in price.
Believe it or not, you can even lease a 2018 Santa Fe Sport from $249 for 36 months with $2,799 at signing, an effective cost of $327/month.
That's $9 less than the Kona even though there's a $3,800 difference in MSRP.
Given its wide range of available tech, we consider the Kona to be very competitive in its segment. Features like automatic emergency braking aren't even available in an HR-V or Chevy Trax at any price.
That said, if you're going to lease, there are a lot of alternatives that'll probably get you a lot more vehicle for your money.
Learn more about the Hyundai Kona »