The all-new Stinger is poised to make waves, combining impressive performance and refinement in a value-oriented package. If the sporty 4-door has been on your radar, there's good news. Kia has just introduced the vehicle's first lease and finance offers.
With offers starting at just $299/month, the model is shaping up to be one of the better deals on a performance car heading into December. Some versions even feature an unbelievable $6,800 in savings, but you'll need to know where to look.
So how much will it cost to lease a Stinger? What types of discounts are available? And how does the deal stack up next to some of the other choices shoppers have at the moment?
Here's what you need to know.
Offer Details
Nationally, Kia is offering the 255 hp Stinger 2.0 turbo from $299 for 36 months with $2,999 due at signing. The deal includes an allowance of 12,000 miles per year, which is pretty standard for Kia.
Based on an effective cost of $382/month, we consider this a pretty good deal given the vehicle's MSRP of $32,800. Program bulletins show the deal includes an impressive $4,800 in factory lease discounts.
Although that's the only version with an advertised lease, a closer look reveals that better-equipped configurations could equate to hidden deals because of some rather remarkable lease discounts that aren't being advertised.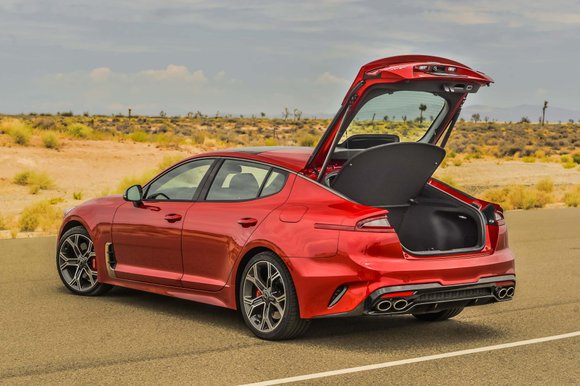 As it turns out, discounts for leasing a Stinger vary considerably based on which version you choose. There's actually a spread of up to $2,300 between certain styles like the 365 hp Stinger GT.
At the top of the range, the all-wheel drive Stinger GT2 benefits from a whopping $6,800 in lease cash, something we consider incredibly surprising. In contrast, buying a Stinger isn't nearly as attractive, at least for now.
With no rebates to speak of, the only purchase-oriented offers are 0.9% financing for 60 months or 1.9% for 66 months. There's also a 72-month option at 2.9%, but it's nothing worth writing home about.
The clear advantage right now is for those looking to lease. Offers expire January 2, but may change sooner than that.
Competitive Analysis
Here's how the Stinger stacks up next to some sporty alternatives available right now. Data is based on our monthly analysis of over 600 leases.
We'll start with vehicles with lower MSRPs.
vs. Subaru BRZ - With an effective cost of $405, the 2017 BRZ ($26,315) is actually one of the more awful choices when it comes to leasing. That's $23/month more than the Stinger despite a $6,485 difference in MSRP.
This is based on a national lease of $345 for 36 months with $2,145 at signing. Regional offers in areas like Los Angeles are a bit better, but sadly still $2 more expensive than the Stinger.
vs. Ford Mustang - The Mustang is actually an extremely good deal at the moment following the introduction of a Sign & Drive lease on Black Friday. In California, you can now lease the 2017 Mustang V6 ($27,280) from $279 for 36 months with $0 due at signing, making it an excellent value.
vs. Chevy Camaro - Believe it or not, the Stinger is $7/month cheaper to lease despite having a sticker price that's $5,105 more expensive. The 2018 Camaro LT Turbo ($27,695) is listed at $289 for 39 months with $3,899 at signing and has an effective cost of $389/month. Like most Chevy leases, it comes with an allowance of 10,000 miles per year.
vs. Alfa Romeo Giulia - Even though it admittedly has a much higher MSRP, the 2017 Giulia ($38,990) is $67/month more expensive than the Stinger. The Alfa is listed at $339 for 39 months with $4,299 at signing, but with the caveat that you'll need to be eligible for a $2,750 conquest bonus for those who currently own or lease a non-FCA vehicle.
vs. Lexus IS 200t - We know it may be hard to compare a Lexus with a Stinger, but what if we told you both had the exact same effective lease cost?
Thanks to the brand's December To Remember Sale, the nearly $40,000 IS 200t can now be leased from $299 for 36 months with $2,999 at signing. The offer is available in Western states and includes an allowance of 10,000 miles per year.
Which car would you choose for the money? For some, the hardest part could be deciding which color Stinger to bring home.