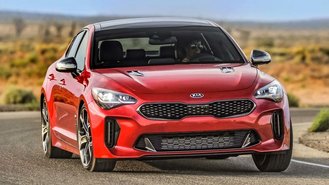 Although the all-new Stinger offers a compelling value in terms of performance, Kia is trying extra hard to make the car even more affordable with a new 84-month financing incentive.
However, a closer look reveals there's actually an alternative that may yield a similar monthly payment while saving you a lot more money when it comes to interest costs.
In this article, we'll also cover unadvertised discounts for leasing the Stinger that are worth up to $6,800, with an analysis of this month's advertised lease deal.
Here's what you need to know.
84-Month Option
Starting this month, Kia is offering 3.25% APR financing for 84 months on all 2018 Stingers. According to the program bulletin, buyers will need to have an above-average FICO score of 720 or above to qualify.
On a $33,000 car, a 7-year loan at that rate would translate to a monthly payment of $440, reflecting $3,940 in interest over the course of the loan. That's also before factoring taxes, license and fees.
For some perspective, taking out a more traditional 5-year loan at 3% would cost you about $2,578 in interest but would feature a payment of $593/month.
Having said that, a third option may be more appealing.
Separately, Kia is offering a 75-month financing deal at 0.9% APR. Taking this route would come out to just $949 in interest with a monthly payment of $453. That's $13/month more than the 84-month loan, with $2,991 less in interest.
If keeping a lid on your total cost is a priority, the 75-month deal is probably a better bet. However, our analysis shows that leasing can get you access to some pretty impressive discounts you can't get when buying.
Hidden Lease Discounts
Believe it or not, the Stinger still features no rebates despite having been on the market for about 6 months. Having said that, the brand is offering some tremendous discounts when you opt to lease certain styles.
For example, the Stinger Premium with 2.0-liter turbo and all-wheel drive is eligible for $6,800 in factory lease cash. The lowest discount is currently $4,800 on the base GT model with 3.3-liter engine.
This month's advertised offer is on the Base 2.0-liter version with rear-wheel drive at $299 for 36 months with $2,999 at signing. Its effective cost comes out to $382/month, $14 less than a Volkswagen GTI S with automatic.
Learn more about the Kia Stinger »