In a segment in which you can find some pretty crazy deals, Toyota has resisted the temptation to discount the latest version of the Camry. Now, after over a year on the market, the 2018 Camry benefits from its first cashback incentive.
This month, shoppers across most of the country will find a $1,000 customer rebate on both the Camry and Camry Hybrid. Although deals from Toyota generally vary by region, we've found at least 9 areas with this offer.
Based on our analysis, the list includes: Boston, Central Atlantic States, Chicago, Cincinnati, Kansas City, New York, Portland, the San Francisco Bay Area and Southern California.
There are a few exceptions. In the Southeast, Toyota mainly uses dealer cash, and is giving dealers up to $1,250 to help lower prices. In places like Texas, the brand is offering a $1,500 rebate.
What this means is that now is a much better time to buy compared to last month. Until now, discounts have favored leasing over buying, with offers starting at just $199/month in places like New York.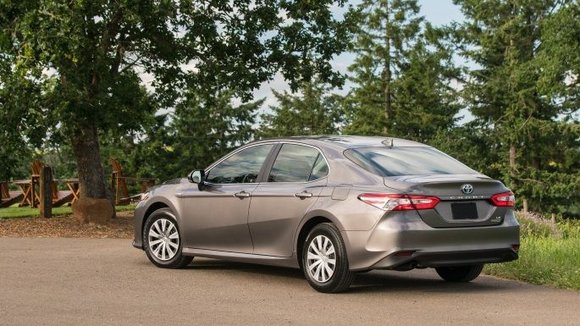 However, lease prices have risen steadily, while financing rates have become considerably less affordable next to competitors even as we approach the end of the model year. Here's an example.
In Southern California, Toyota Financial is offering 0.9% APR financing, but only for terms up to 36 months. The 60-month rate is considerably worse at 2.9%, while the 72-month hits 3.9%.
We suspect the latest changes aren't the result of some big change in strategy, but rather because the 2019 Camry will be arriving soon at dealers. As we recently reported, it'll offer benefits like support for Apple CarPlay.
If you're in the market to buy, the next 30-60 days is probably going to be one of the best times to buy. For now, bargain hunters may find some surprisingly good alternatives when it comes to deals.
Chevy is offering 20% off Impalas, worth up to $8,021 in savings and one of the best discounts. Alternatively, the 2018 Passat ranks as one of the cheapest leases on a car with an effective cost that's less than the new Jetta.
Labor Day could bring some type of extra savings since Toyota tends to introduce bonus cash on select models in the week or two before holidays. Sadly, bonuses like that have favored the RAV4 over most other models.
Stay tuned for our Labor Day coverage for the latest info.