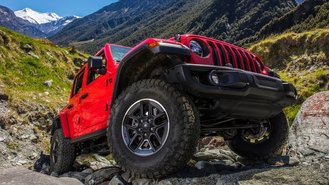 The all-new Wrangler JL may be a hit with shoppers, but it certainly isn't getting any more affordable. Apart from an MSRP increase several months ago, lease prices have increased up to $43/month due to less favorable terms. As a result, the cost of bringing one home has gone up considerably.
Here's a look at why that's the case.
Higher Lease Prices
This month, the 2018 Wrangler Sport 2-door is listed at $339 for 36 months with $2,499 due at signing. That includes an allowance of 12,000 miles per year and equates to an effective cost of $408/month.
The 4-door Unlimited version is advertised at $299 for 36 months with $2,499 at signing, an effective cost of $368/month. That's a $40 advantage despite a $3,500 difference in MSRP.
The 4-door's lower price is mostly attributable to a 9% higher residual value compared to the 2-door. Having said that, these prices have increased quite a bit over the past few months.
This past March, the Unlimited was listed at $256 for 36 months with $2,499 at signing, an effective cost of $325/month. That's $43 less than what Fiat Chrysler is advertising in June.
So what gives? Dealer lease bulletins offer some clues.
First, Jeep raised the MSRP prices on every Wrangler by $750 back in March. Lease offers starting reflecting the higher sticker prices in May.
In the case of the Wrangler Unlimited, the residual value also fell from 78% to 75. As a result, our analysis shows lease prices in May were $34/month more expensive than the previous two months.
For June, lease prices have gone up an additional $9/month due to a higher interest rate. All Wranglers are now subject to a money factor equivalent to 4.9% APR (up from 4.6% in May).
We don't expect these prices to get better anytime soon. Last month, Fiat Chrysler reported a 26% gain in May sales compared to the previous year. Year-to-date, sales increased 38% in spite of the higher prices.
One could argue that lease prices are going up across the car industry, but that hasn't been the case with Jeep. In most cases, prices have remained relatively stable, with the sole exception of the Wrangler.