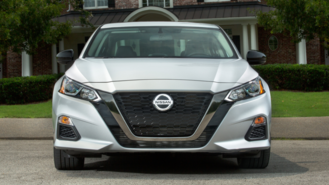 Although it's often true that newer cars cost more to buy or lease, that may not be the case if you're an Altima shopper this month. That's because our analysis has found that leases on the redesigned 2019 Altima can actually be cheaper than the 2018 model.
Thus far, we're finding this to be the case in Denver, Los Angeles, San Francisco and Seattle. In Los Angeles, shoppers will find the 2019 Altima S listed at $239 for 36 months with $2,899 due at signing (12,000 miles per year), which comes out to an effective cost of $320/month.
At the same time, Nissan is advertising the 2018 Altima S at $269 for 36 months with $3,299 at signing. That equates to an effective cost of $361/month, making it $41/month more expensive than the newer version (not to mention one of the worst leases on a midsize car).
The reason for this has everything to do with what's going on behind the scenes.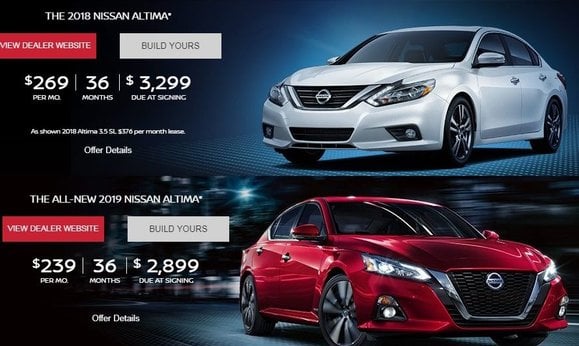 According to Nissan's leasing bulletin, the 2019 Altima has an underlying residual value of 52%, much higher than the 43% residual of the 2018 model. The latest version also has a money factor of 0.00047 (basically 1% APR) while the 2018 version is listed at 0.00003 (0%).
In Los Angeles, 2019 Altimas benefit from $500 in factory lease cash, while the 2018 model gets $475. However, our analysis finds that offers on the Altima don't always favor the redesigned car in all parts of the country.
In New York, the 2018 Altima is cheaper to lease because Nissan is offering a $2,775 lease incentive, compared to just $250 with the 2019 model. Last year's model is listed at $169 for 36 months with $3,899 at signing, while the 2019 is listed at $225 with $3,619 at signing. Here, the effective cost of the 2018 version ends up being $49/month cheaper to lease ($277 vs $326).
We find it worth noting that none of this means either Altima is particularly good to lease. Instead, we think this is a reflection of just how awful the 2018 Altima is to lease. Even at $277/month, a 2018 Toyota Camry LE ($262 in New York) equates to a much better value given that it's for a newer and better-equipped vehicle.
In places like Los Angeles, the 2018 Altima can be almost as expensive to lease as an Infiniti Q50. Our analysis actually found the 2018 Q50 2.0T LUXE ($379) to be just $18/month more expensive despite an over $13,000 difference in MSRP.
Learn more about the 2019 Altima »