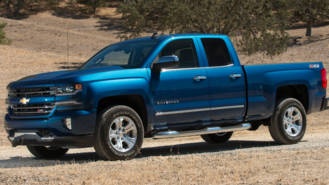 If you live in the Northeast, Chevy is hoping a late-month regional promo on the Silverado LD will equate to an irresistible deal. Between March 15 and April 1, buyers with above-average credit can get 0% APR financing for 84 months, a deal we almost never see on a pickup truck.
It's important to note that this is for the 2019 Silverado 1500 LD, a completely different truck compared to the redesigned 2019 Silverado 1500. The LD is essentially a continuation of the outgoing generation that's only sold in a double cab configuration.
On a $45,000 LT 4x4, our analysis finds that the deal will probably save buyers over $8,400 in interest when compared with a 7-year loan at 5%. In terms of your monthly payment, choosing the 0% deal would equate to about $536/month before taxes & fees. At a rate of 5%, the payment would come out to $636/month.
That's an advantage of $100/month... for 7 years!
That may sound straightforward, but the fact is that no one should expect to have to pay MSRP for a truck like the LD. Depending on where you live, you may find that taking incentives like Supplier Pricing and cashback can save you more money instead.
Since truck offers can be inordinately complex, be sure to check with your local dealer to explore every option available to you.
Learn more about the Silverado LD »
Pictured: 2018 Silverado 1500