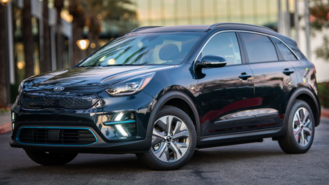 The 2019 Kia Niro EV is certainly set to make waves, boasting more range than the Chevy Bolt and brimming with features like standard DC fast-charge and driver assistance technology. Despite having a price tag of almost $40,000, dealer incentive bulletins reveal it could present a pretty good value when leased.
In base form, the Niro's EX trim has an MSRP of $39,495 with destination. That makes it $10,000 more expensive than the cheapest Niro Plug-In Hybrid and over $15,000 more than the regular Niro hybrid. That's also $2,000 more than the 2019 Chevy Bolt ($37,495) and $1,500 more than the Hyundai Kona Electric ($37,995).
Kia's national lease on the Niro EV starts at $319 for 36 months with $3,999 due at signing. The deal includes a yearly allowance of 10,000 miles and equates to an effective cost of $430/month before taxes & fees. Kia is including $8,000 in discounts, including the full $7,500 federal tax credit and a $500 factory incentive.
Interestingly, those planning to lease may find the Niro to be a better value than the Kona Electric.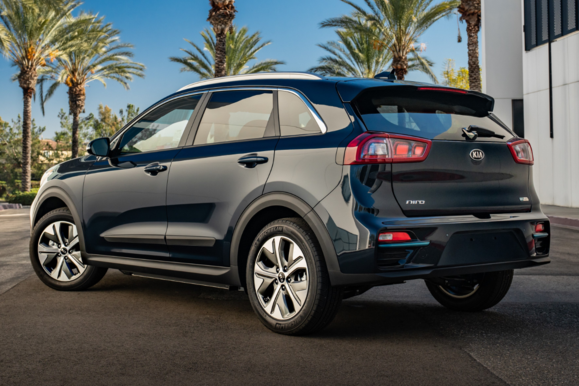 In its SEL trim, the Kona Electric is advertised at $369 for 36 months with $3,899 at signing, an effective cost of $477/month. Although you get a higher allowance of 12,000 miles, that makes the Niro almost $50/month cheaper to lease despite a higher MSRP. So why is the Niro a better deal? We found 3 key reasons.
First, the Niro benefits from a slightly better discount ($8,000 lease cash vs. $7,500 with the Kona). Next, the money factor for the Niro equates to an interest rate of 4.8%, compared to 5.1% with the Kona. Perhaps most importantly, the Niro's residual value of 50% is higher than the Kona's 46%.
Having said all that, the Kona does have at least one key advantage: range. At 258 miles, it can travel 19 miles further than the Niro, an advantage of almost 8%. For comparison, the Tesla Model 3 Standard has a range of 279 miles, although we recently discovered it can be pretty expensive to lease.
If you're shopping based on price, the Niro could be very appealing. Even though the Model 3 and Bolt have lower sticker prices, it's worth noting that both are only eligible for a $3,750 tax credit. All three vehicles can also qualify for applicable state and local incentives.
Even though the field of extended-range EVs is still growing, consumers clearly have some new and exciting options.
Current offers end April 30.