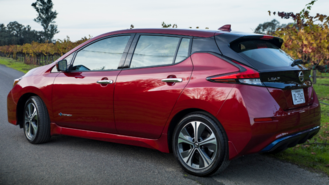 The 2019 LEAF is beginning to arrive at dealers and Nissan is already offering incentives to attract shoppers. First, there's a financing deal through Nissan Motor Acceptance Corporation (NMAC) involving 0% APR for up to 48 months. 60 and 72-month rates are available at 0.9% and 1.9%, respectively.
On the surface, that sounds very similar to the 2018 LEAF, which gets 0% APR for up to 60 months and an identical 72-month offer. However, a key difference is that the 2018 model benefits from a $1,000 financing bonus, something you can't get with the 2019 model.
Having said that, financing offers on the 2018 LEAF are considerably worse compared to last month's deal of 0% APR for 72 months plus a $2,000 financing bonus. This represents the most significant change we've seen with LEAF offers in quite some time.
If you're leasing, the 2019 LEAF S is eligible for up to $10,025 in factory lease cash, more than the $8,850 offered on the SV trim and the $8,525 offer listed on the range-topping SL. The amounts look awfully close to discounts worth up to $11,350 on the 2018 LEAF.
However, a closer look reveals there are some key differences when it comes to underlying lease rates and residual values.
2019 LEAFs are eligible for a 36-month money factor as low as 0.00257, equivalent to an APR of slightly over 6%. Base residual values range from 34% for the S trim to 39% for the SL. In contrast, 2018 LEAFs feature a money factor of 0.00178, or 4% APR, with residuals ranging from 29% to 34%.
Nissan doesn't have an advertised lease yet on the 2019 LEAF. Here in Los Angeles, the 2018 LEAF S is listed at $219 for 36 months with $2,929 due at signing, which equates to an effective cost of $300/month. That's $5/month more than a 2019 Kia Soul EV Plus ($295), a vehicle with an MSRP $5,960 more expensive.
Current LEAF owners should be aware that Nissan hasn't extended its $1,000 loyalty discount yet to the 2019 model. At the moment, LEAF drivers can only apply the discount toward the purchase or lease of a 2018 LEAF. This could change and may be worth waiting for if it applies to you.
Nissan hasn't announced offers yet on the upcoming 60-kWh variant with an expected range of over 220 miles. Official specs and prices aren't available yet, but early pricing documents point to a premium of around $5,500 compared to the 40-kWh model, potentially putting prices closer in line with the Chevy Bolt EV.