At long last, the 2019 Jetta is rolling into dealers, offering a much-needed update to the iconic nameplate. Those thinking of leasing one for Memorial Day have a new $179/month lease to consider.
However, a closer look reveals the car is priced considerably higher than competitors. In fact, our analysis shows it may actually cost more than another VW with an MSRP that's $5,300 more expensive.
Here's what you need to know.
Offers assume a Los Angeles location unless noted otherwise
First Lease Promo
Starting this month, the 2019 Jetta 1.4T S can be leased nationally from $179 for 36 months with $2,499 due at signing. It comes with an allowance of 10,000 miles per year and has an effective cost of $248/month.
Although that may not sound so bad, the price is for a car with a manual transmission. If you prefer an automatic, the price rises by $10 to $258/month, which isn't all that great for a car with an MSRP of $20,195.
Believe it or not, that's actually $4/month more than a 2018 Tiguan S. Here in Los Angeles, the all-new Tiguan leases from $179 for 36 months and $2,699 at signing, an effective cost of $254/month.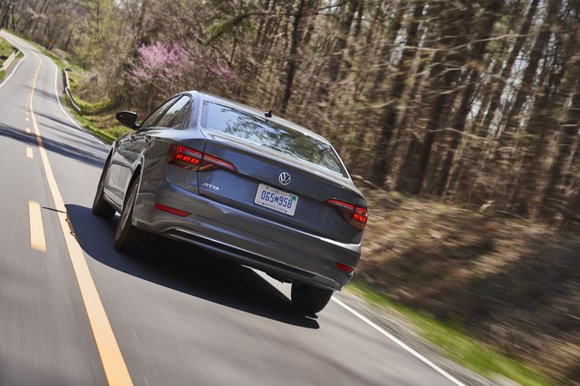 The MSRP of the Tiguan is $25,495, meaning it's $5,300 more expensive than the Jetta but $4/month cheaper to lease. The reason has to do with a very big difference in discounts.
Manufacturer bulletins show the Jetta has no lease discounts whatsoever and a money factor equivalent to 2.9% APR. The Tiguan lease has the same rate but benefits from $2,250 in lease cash.
We find this to be yet another case in which an SUV is cheaper to lease than a car.
The Jetta's effective cost of $258 also makes it pricier than competitors. It's $13/month more than a Honda Civic LX ($245), $23 more than a Toyota Corolla LE ($235) and $33 more than a Mazda3 ($225).
Higher prices for an all-new model aren't surprising. However, those thinking of buying one for Memorial Day will be paying a hefty premium for the privilege of being one of the first to bring one home.
Build & Price Your 2019 Jetta »