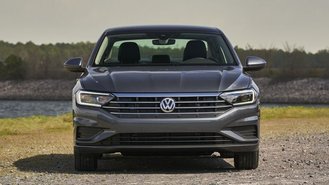 The completely redesigned 2019 Jetta hasn't arrived yet, but Volkswagen isn't wasting any time when it comes to deals. Bulletins reveal the automaker is gearing up to introduce the car with special rates for financing & leasing.
Although the car will likely command high prices to start, a small ray of hope awaits prospective buyers in the form of an unadvertised discount. Altogether, some buyers could see up to $1,000 in savings plus low-interest APR.
Here's what you need to know.
Small Deals To Start
Starting today, VW has introduced 1.9% APR for 60 months on all 2019 Jettas. There's also a 72-month option at 2.9%. These are the same rates you'll find on models like the 2018 Golf and Tiguan.
Advertised lease promos for the Jetta haven't been listed yet, but we're certainly curious to see what's in store based on the initial residual value and money factor information that's been given to dealers.
Certain versions like the Jetta SE are listed with a 36-month residual of 61%, which is identical to that of a Subaru Impreza. All trims are eligible for a money factor of 0.00120, which translates to an APR rate of about 2.9%.
However, there isn't any sort of lease cash incentive to help drive down the price, so initial prices could be higher than competitors. For those planning to buy, there's an unadvertised incentive that's worth knowing about.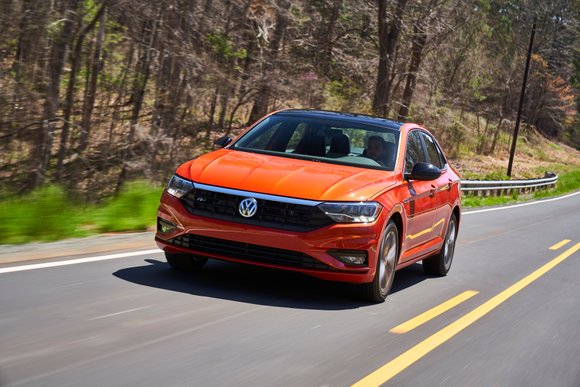 Dealers are being given a $500 dealer cash incentive on all versions of the 2019 Jetta. Although it's at their discretion whether or not to pass it along, it could at least encourage some dealers to initially list prices below MSRP.
VW offers a similar incentive worth up to $2,000 on last year's car. In some parts of the country, we're seeing listings priced below $14,000, lower than some subcompact cars. But you may not have a whole lot of time.
That's because 2018 was a short production year for the Jetta, and our analysis shows your local dealer may not have lots packed with leftover cars. The vehicle's best finance deal is 0.9% for 60 months, which isn't great.
Recent college grads considering a 2019 Jetta are in a position to save an extra $500 as part of VW Credit's College Graduate Program. The deal was recently updated to include the new Jetta.
The discount is available to those who've graduated from an accredited U.S. college in the past 2 years, or are within 6 months of graduation. The only real catch is that you'll have to take out a loan in order to get it.
Under ideal circumstances, that means the 2019 Jetta is eligible for up to $1,000 in savings plus 1.9% financing. That's not great, but it's also not bad for a brand-new model.
Memorial Day could prove to be a great opportunity to check out the latest generation at your local dealer, and to consider scooping up last year's version at a nice discount while you still can.