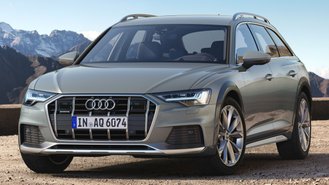 Audi wagon lovers still rejoicing the return of the 2020 A6 allroad may have another reason to celebrate this month. According to a bulletin sent to dealers, Audi is mailing customers a loyalty coupon worth $2,500 off the purchase or lease of the revived model. However, there are some catches worth knowing about.
First, this is a direct mail campaign aimed squarely at owners & lessees of any A4 allroad or A6 allroad. As a result, this is essentially a wagon-to-wagon offer that not everyone is eligible for. Second, the program excludes the upcoming RS 6 Avant, slated to offer acceleration from 0-60 mph in as little as 3.5 seconds.
Loyalty discounts aren't all that unusual but we typically don't see Audi offer direct mail campaigns for such a narrow segment of buyers. That said, the deal could be a welcome relief for eligible consumers considering that the allroad doesn't qualify for the same discounts at the moment as the A6 sedan.
Prices for the A6 allroad start at $66,895 including destination, $6,100 more than an A6 sedan with the same 335 horsepower V6 engine. Loaded versions with options like the Prestige and Luxury Packages can easily approach $75,000. The new RS 6 Avant has been priced from an eye-watering $109,995.
Based on our latest analysis, the best deals from Audi currently involve up to $4,500 in unadvertised dealer cash incentives on the few remaining 2019 models like the Q7. However, lease offers now favor Audi's 2020 lineup. Interestingly, we're even seeing rare incentives on the brand's flagship R8 sports car.
Current offers end March 31.