Audi's most expensive car has a surprisingly big discount right now. According to a dealer incentive bulletin, the German automaker is giving dealers up to a $7,500 incentive to help sell its flagship model, the 2020 R8. Based on our analysis, this marks a rare deal for the over-200-mph, 10-cylinder sports car.
The incentive is referred to as a "closing certificate" and is available nationwide through March 31. Dealers can choose to pass along up to $7,500 when a consumer opts to either buy or lease. According to our records, this is the first incentive we've seen to date on the current R8 since it went on sale last spring.
That said, this isn't the first time we've seen a hidden incentive on a sports car. Last month, we found Acura introduced a $20,000 incentive on the 2020 NSX when financing or leasing through Acura Financial Services. Just yesterday, we reported Toyota began offering $1,000 in dealer cash on 2020 Supras.
So does this make the R8 cheap to buy? Not exactly.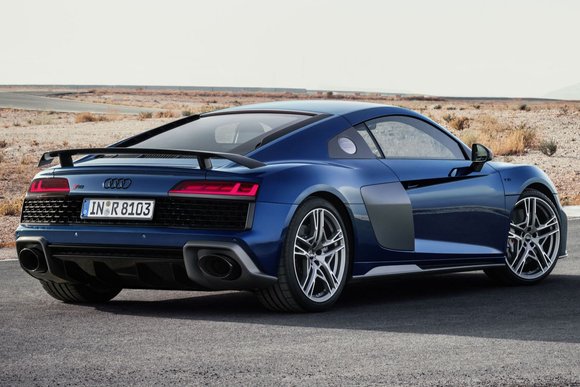 Prices for the 2020 R8 coupe start at $172,850 after a $1,250 destination charge and when factoring-in a mandatory $1,700 gas guzzler tax. At the top of the range, the 611 horsepower Performance version of the R8 Spyder starts at $211,050. And that's before you decide to add any optional equipment.
Interestingly, some dealers aren't being shy about advertising large discounts. For example, a dealer in Atlanta, GA is offering $17,653 off a new R8 Spyder with an MSRP of $196,145. That may be an extreme case, but we're seeing multiple instances in which dealers are offering between $8,000 and $10,000 off.
As usual with this type of offer, "your mileage may vary" as far as how much of a discount your local dealer will be willing to provide. However, the mere existence of a $7,500 incentive on a specialty model like the R8 seems to be a clear sign that Audi wants dealers to sell more R8s sooner rather than later.
What remains to be seen is whether or not any of this corresponds to rumors that the R8 could be discontinued. Given that the current car was refreshed barely a year ago, we think it's more likely that the incentive is merely meant to whittle-down stock as the car approaches the end of the current model year.