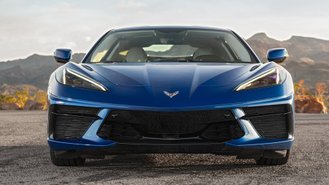 With a base price of just $59,995, the redesigned 2020 Chevy Corvette is certainly shaping up to be a bargain. However, in addition to the potential for hefty dealer mark-ups, our analysis finds that initial C8 lease rates can make the car more expensive than vehicles costing thousands more.
At the moment, the C8 doesn't have any special offers for buying or leasing and is only eligible for Chevy's standard lease rate of 0.00258, which is equivalent to 6.2% APR. With a 36-month residual value of 63% for the LT trim, this equates to roughly $890/month based on a 10,000 mile/year lease with $0 down.
For the money, shoppers may find other sports cars a lot more affordable.
According to CarsDirect analyst Kelly Campbell, the 2020 Jaguar F-TYPE can cost substantially less when leased. For example, the supercharged 3-liter variant has an MSRP of over $72,000 but is listed at $589 for 36 months with $4,995 at signing, or $728/month. That's potentially over $160 less than the cheapest C8.
Glowing early reviews seem to confirm the new Corvette's promised performance credentials. That said, the potential for a price increase could impact buyers later on. While we've seen no evidence that MSRPs will be going up anytime soon, it's certainly possible given reports GM will actually lose money on its newest car.
For now, we're hoping that Chevy at least introduces some sort of loyalty discount for current Corvette owners. 2019 Corvettes were eligible for a $3,000 bonus that ended last December. The deal was replaced with a $2,000 rebate for everyone plus Employee Pricing. At the time, buyers could save nearly $12k off MSRP.
Current offers on the C7 are considerably less attractive with a $2,000 rebate plus GM Supplier Pricing. Chevy is advertising $8,338 off the price of a loaded Z06, over $3,500 less than special offers just 2 months ago.