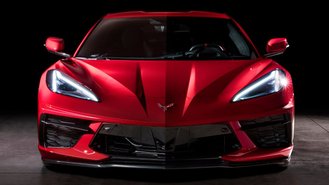 GM launched its annual promo today for vehicles purchased through the Costco Auto Program. In addition to GM Supplier Pricing, the deal involves a Costco Cash Card worth $700 for Executive Members and $300 for Gold Star members. However, there's bad news for those looking to score a deal on the 2020 Corvette.
According to bulletins sent to dealers, the C8 Corvette is essentially one of two Chevys excluded from the deal (the other being the 2020 Silverado HD). While this may not be all that surprising, it certainly won't be welcome news for buyers reportedly dealing with steep dealer markups.
That said, even if the C8 was eligible, there's a sticking point that would prevent most buyers from getting the discount. The fine print states factory orders don't qualify and vehicles must be purchased by the program's expiration date of January 2, 2020.
Interestingly, the Costco Auto website doesn't appear to mention the fact that 2019 Corvettes actually qualify for the latest deal. Although the car has been eligible for Supplier Pricing since August, the latest offer has an important difference worth knowing about.
Apart from the bonus of receiving a Cash Card, the Costco promo can be applied toward both purchases and leases. Previously, leases were excluded.
Not a Costco member? You may want to think twice about joining just to get the deal because it requires you to be a paying member as of September 30 (in other words, prior to the program's official start date).
In addition, rather than walking into the closest showroom, shoppers will first have to register through the program website and find a dealer participating in the Costco Auto Program.