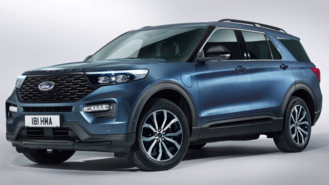 Although the 2020 Explorer is the newest arrival at most Ford dealers, the automaker has already rolled out a $1,000 discount to help spur sales. However, incentive bulletins reveal that the featured deal is only available on the three most-expensive styles: the Limited, Platinum, and all-new ST.
Alternatively, all Explorers (including the entry-level XLT) offer special financing rates starting at 0.9% APR for 36 months. 48, 60, and even 72-month options are available at 1.9%, 2.9%, and 4.9% APR, respectively. The Limited, Platinum and ST also benefit from a $500 bonus.
In the case of a 5-year loan on an Explorer Limited, that means having a choice between a $1,000 rebate or 2.9% APR plus $500 cash. On a $50,000 vehicle at 5% APR, taking the rebate would cost $55,481 before taxes & fees. With special financing, the cost comes out to $53,235.
That's a $2,246 advantage in favor of financing through Ford Credit. Sadly, leasing remains a pricey option at the moment.
Ford's online payment estimator lists the XLT at $392 for 36 months with $4,179 at signing, which translates to an effective cost over $500/month. That's around $100 (per month) more than what Toyota is advertising on the Highlander LE Plus here in Southern California.
So is now the right time to buy?
That depends. If you're interested in a higher-trim Explorer, it's certainly nice to have some options at this early stage. That said, the difference in MSRP between an XLT and Limited is over $11,000, and slightly better incentives don't do much to help narrow that gap.
It's also worth noting that dealer discounts may not be all that good since inventory is limited. With reports of production-related issues behind the scenes, consumers willing to wait will likely be rewarded with better savings & availability as we head into the final months of 2019.